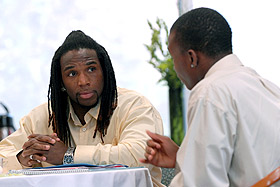 Rico Washington '01 and Michael Orange '13 have a lot in common. Both are Auggie wrestlers. Both overcame adversity in their youth. Neither had a strong father figure in his life and therefore looked to coaches for support and advice. And both have an interest in business – Washington was a business major and now runs his own companies, and Orange is currently studying business.
It would be challenging to find a more perfect match. This year, Washington is serving as a mentor to Orange through Augsburg's Scholastic Connections program. Recently at the annual dinner gala, the two met each other and the other mentors and mentees who are involved in Scholastic Connections this year.
As a student at Augsburg, Washington says he relied on coaches for help in many areas. "They were like father figures and helped to instill drive and motivation in me," he says.
But Washington, who was on the wrestling team as well as the football team, says the hardest part of being a first-generation college student and student-athlete was dealing with issues outside of school. "I kept a lot inside," he says. That's what he hopes to help Orange with as they get to know each other.
Orange says that having a mentor in Washington is additional insurance that he will stay in school and graduate. "I can't drop out because there are too many people keeping track of me, too many to report to." Orange also wants to be successful because he knows he is setting an example for his sisters.
Washington is looking forward to mentoring Orange not just for this year but also throughout the young man's career at Augsburg. "I think this is a really good fit, and I'm going to help him in any way possible."
Scholastic Connections is a scholarship and mentorship program for high-achieving undergraduate students of color. The program is designed to assist students succeed in completing their undergraduate degree and prepare them to be engaged, successful citizens of the world on graduation by facilitating career development and planning.