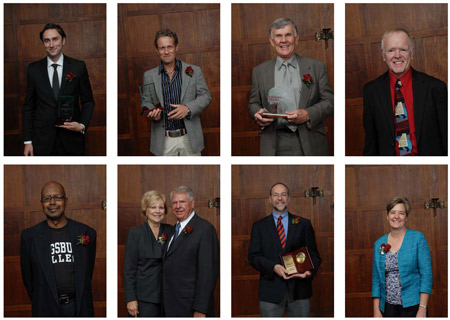 Every year Augsburg honors alumni and friends of the College who have contributed to Augsburg or who have made significant accomplishments since their graduation. This year we honor the following (L to R, top row to bottom row):
First Decade Award
Nicolas Thomley, '06 MBA
Passionate about making a difference in the lives of others, Nicolas Thomley founded Pinnacle Services in 1999 at the age of 19 to provide housing services to people with developmental disabilities. His remarkable energy, creativity, entrepreneurial instinct, and deep-seated desire to serve others have led to his recognition as an industry leader, with his companies serving more than 1,000 disabled individuals and seniors and employing more than 400 people.
With a BA in organizational management and communication from Concordia University and experience in the Marine Corps, Thomley completed Augsburg's MBA program in less than two years. He was also accepted into "The Birthing of Giants," a three-year executive entrepreneurship program at Massachusetts Institute of Technology.
In 2006 Thomley was recognized by the Minneapolis/Saint Paul Business Journal in "Forty Under 40," the top business leaders under the age of 40.
Morgan Davidsen '00
Morgan Davidsen made a tremendous impact on the Augsburg community as a student, as an athlete, and in the theater. One of the top five goalkeepers in Augsburg soccer history, Davidsen's passion for fostering teamwork helped make him a leader on and off the field. Benjy Kent, who served as Davidsen's coach, praised his ability to support and motivate others to strive for greatness. Davidsen took that same passion to the stage as an actor and student director in the Theatre Arts Department.
Since graduation, Davidsen's Augsburg experiences, as well as his strong Norwegian and Christian roots, have helped him pursue opportunities in the film industry in Los Angeles and in Norway. He has received numerous awards for his film work. He has been recognized at film festivals around the world and has been supported by a grant from the American Scandinavian Society in New York.
Spirit of Augsburg Award
Jack Osberg '62
Jack Osberg has served Augsburg as a teacher, coach, and mentor. As a student, he was captain of the football team and went on to teach biology and coach in area schools after graduation. Forever an Auggie, he returned to campus and served as head coach for 14 seasons (1991–2004). His outstanding technical knowledge of the game, excellent people skills, and love for Augsburg helped him lead the team to an MIAC championship in 1997. They continued to the second round of NCAA playoffs and posted the best record (10-2) in the 84-year history of the football program. Colleagues Frank Haege and Paul Grauer note that Osberg is a leader by example and by word and has uncanny ability to rally those around him. He takes great pride in both his players' academic and athletic achievements and their discovery of vocation, Osberg's servant-leader coaching style has set a high standard for Augsburg coaches.
After retirement as head football coach, Osberg served as the Augsburg A-Club advancement manager until this year. He was inducted into Augsburg's Athletic Hall of Fame in 1979.
Stephen "Gabe" Gabrielsen '63
Stephen Gabrielsen, known to everyone as "Gabe," transferred to Augsburg from Lutheran Bible Institute because he wanted to stay in Minneapolis. He graduated and returned to teach at Augsburg while still a graduate student, at the invitation of Music Department chair Leland Sateren. Now, after 47 years as a faculty member and College organist, Gabrielsen will retire this year.
Gabrielsen's majors in music and religion became the foundation for his vocation, which found expression in both music and faith. He has played organ in daily chapel for his entire time at Augsburg and was organist for 28 of the 30 Advent Vespers services. But for the hundreds of students he has taught, he will always be remembered for the caring he offered each one in music classes and organ lessons.
Following his graduation from Augsburg, Gabrielsen received his master's and doctoral degrees in music from the University of Minnesota. He is a fellow of the American Guild of Organists and has published organ and choral music. He studied music in Germany as a Lutheran World Federation Scholar and has toured and performed internationally.
Richard Spratt '74
Richard Spratt, a native of Charlotte, North Carolina, graduated in 1974 with a bachelor's degree in social work. After earning his MSW degree at the University of Minnesota, he embarked on a distinguished career with Hennepin County Human Services and Public Health Department. During his 30 years at Hennepin County, he has worked in a variety of programs and special initiatives, which include the African American Adoption Project and The Village—a community-based program in North Minneapolis. He has continued his long relationship with Augsburg College as a community faculty member in the Social Work Department and regularly serves on campus committees, including the Field Advisory Board.
Awarded the Augsburg Steen Award in 1998, he implemented a collaborative project with Minneapolis Public Schools to improve educational programs for children and promote family involvement and postsecondary education. In January 2010, Spratt received Augsburg's Spirit of Martin Luther King Jr. Award.
Distinguished Alumni Award
Donald '53 and Beverly (Halling) '55 Oren
Through his innovative leadership, Don Oren transformed Dart Transit from a small family company with a handful of trucks into the nation's 11th-largest truckload carrier in an industry with more than a quarter million companies. Dart has received numerous awards, including a 2009 Family Business Award from Minnesota Business magazine; Best Fleet in the Nation for Owner Operators; and Carrier of the Year from many of their Fortune 500 customers. Don is recognized as an innovator, continually pushing industry standards to serve his customers and committed to improving highway safety.
Bev Oren served Dart for 20 years, primarily as vice president of human resources. In that capacity, she not only had the uncanny ability to select and hire outstanding talent, but also to mentor their carrier advancement. Some of these individuals were Augsburg graduates and are now in leadership positions at the company.
The Orens served on Augsburg's Board of Regents and have created a significant legacy to Augsburg, as their names grace the Oren Gateway Center.
Robert Hanson '68
Robert Hanson graduated with a chemistry major and continued at University of California, Berkeley, where he received his PhD in organic chemistry. He pursued postdoctoral study in medicinal chemistry at the University of Minnesota and in nuclear medicine at Harvard Medical School. Currently he is professor of bioorganic and medicinal chemistry at Northeastern University in Boston and adjunct research scientist at Massachusetts General Hospital. His research in the area of estrogens and their derivatives in cancer research have without question advanced this field. In 2006 he was appointed the Matthews Distinguished University Professor in chemistry and chemical biology.
For several summers, Hanson and his wife, Distinguished Alumna Annette (Hoversten) '68 have hosted Augsburg chemistry professor Sandra Olmsted, enabling her to collaborate in research at Northeastern and to bring back research opportunities for her students.
Jean Taylor '85
Since graduating with a bachelor's degree in business administration and earning an MBA from the Carlson School of Management, Jean Taylor has enjoyed a career of distinguished leadership in the corporate sector, serving until recently as CEO and president of Taylor Corporation, one of the nation's largest private companies. During her tenure, Taylor Corporation evolved from a successful, niche print business to an innovative, global communications, marketing, and interactive solutions provider.
For 12 years, Taylor also provided leadership to Augsburg as a member of the Augsburg Board of Regents. For two of those years, she served as chair of the board, leading the regents through a major capital campaign, Access for Excellence, while simultaneously co-chairing the Campaign Cabinet. Taylor is actively involved at Mt. Calvary Lutheran Church and lives in Eagan with her husband, Roger Griffith '84, and their daughters, Emma and Abby.