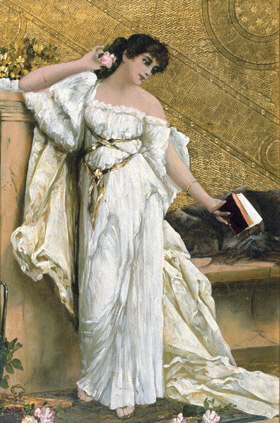 The Augsburg College Theatre Department opens its season on Nov. 5 with Molière's comedy, The Learned Ladies. In this play, a family is thrown into disarray when the mother becomes fixated on an intellectual charlatan. The play evolves into a hilarious portrayal of the intellectual perversions sometimes seen in academia (and elsewhere) when the quest for knowledge is replaced by pseudo-intellectuality, pretention, inflated self-importance, and power mongering.
Sarah Witte, a junior theatre major, plays Armande, one of the learned ladies. The ladies, Witte says, are very strong characters—"…so strong that they rub it in other people's faces." Certainly intellectual superiority, on the part of the ladies as well as other characters, is a theme in the play.
"Have you ever met someone who knows so much that instead of explaining something in a polite and productive way, they talk down to you and you feel like you're right back in the fold up desk you had in middle school? That is these women in a nutshell." Witte says.
Annmarie Caporale, a sophomore theatre and sociology major, plays Martine, the sassy servant girl who tries to stand up to the learned ladies. "Martine is the brass voice of reason," Caporale says.
Caporale says she has played other similar roles but enjoys playing a foil to the ladies with Martine's plain, often crude speech and abrasive personality. "Molière loves to poke fun at faux intellects and uses Martine as a way to show how ridiculous learned people can be."
This is Witte's fourth production at Augsburg. She says it has been a challenge for her to play a "learned fool." She adds, "My main obstacle has been not letting my opinions of her being an idiot get in the way."
Witte says the main difference between this and the other productions in which she's been involved is that there are hidden meanings in Molière's writing. "This play can be interpreted in so many ways," she says, "and I look forward to hearing what the audience takes away from our version."
The Learned Ladies
November 5 – 14
Tjornhom-Nelson Theater
By Molière
Translation by Richard Wilbur
Directed by Martha Johnson
Tickets are $10 general public; $8 ACTC, faculty, staff, and students; $2 Augsburg students and children under age 12. For additional information, call 612-330-1257. To make a reservation, e-mail your ticket request including number and type(s) of tickets to: boxoffice@augsburg.edu.