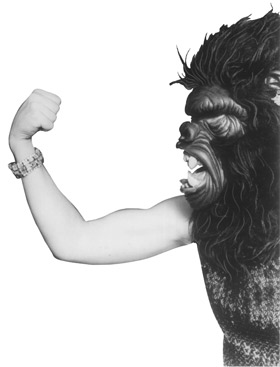 The Many Voices, Bold Visions convocation series continues this week with the Anne Pederson Women's Resource Center Koryne Horbal lecture.This year's lecture will feature a performance by The Guerrilla Girls on Friday, Nov. 5 at 5 p.m. in the Hoversten Chapel, Foss Center. This event is free and open to the public.
In the mid-eighties, a group of women artists took to the streets (with clever and politically devastating posters) to protest the lack of work by women artists and artists of color in museums. Working anonymously to expose sexism and racism in the art world, these women adopted the names of famous female artists and wore gorilla masks to protect themselves from the angry art world elite. Calling themselves The Guerrilla Girls, they have taken their activism from the U.S. to Canada, Japan, Ireland, Germany, and elsewhere—and have expanded their repertoire to include an attack on sexism and racism in Hollywood as well as in global politics.
And now, The Guerrilla Girls are coming to Augsburg for a discussion/lecture/performance with Guerrilla Girl, Frida Kahlo. T-shirts, books, and posters will be on sale before and after the performance, with a book-signing after the performance, as well. The performance is free and open to all.
Limited spaces are also available for a special "Aestheticize Your Activism" workshop for students on Saturday, Nov. 6 from 10am-noon. If you are interested, contact nathanso@augsburg.edu.
For more information about The Guerrilla Girls
Koryne Horbal Lecture Series
The Anne Pederson Women's Resource Center is also committed to bringing quality women speakers to Augsburg College. This lecture series features women speakers of national prominence who address important issues that especially impact women. The series is named after Koryne Horbal, former ambassador to the United Nations Commission on the Status of Women and consultant to the Anne Pederson Women's Resource Center.