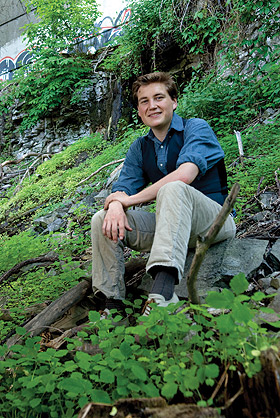 Just what does "meaningful work" mean to you? During the week of Nov. 15-19, Augsburg students are invited to explore this idea through a series of events. Strommen Meaningful Work Week will include the annual etiquette dinner and daily open-house opportunities for students to talk with employers from a variety of disciplines.
The Clair and Gladys Strommen Center for Meaningful Work promotes the exploration of vocation, purposeful living and meaningful work by connecting liberal and professional knowledge and skills with talent, faith and core values. Through the Center, students explore career opportunities, get assistance with job searches, and find internships.
Dave Madsen is an English major with an emphasis in media writing. He is currently doing an internship at Seward Redesign, a nonprofit community development corporation that serves the Seward neighborhood. He has been working with local business owners who participate in the Seward Civic Commerce Association (SCCA) in order to write their monthly newsletter and organize meetings and events like the Franklin Frolic. He has also been doing design work for local businesses and helping with Redesign's redevelopment processes.
Below he writes about his internship experience and the concept of "meaningful work."
As a student in a fairly insular institution, I feel as if it may be difficult to grasp a worldview that encompasses the perspectives and knowledge of our neighbors in Seward. While it is important to build an academic foundation on Augsburg's campus, I think that true learning—regardless of one's discipline—comes from stepping outside one's levels of comfort and interacting with those whose life experience aren't limited to the walls of a college or university.
My time with Redesign has been a challenging and infinitely rewarding process of getting to know my diverse neighborhood and its commitment to self sufficiency through interpersonal relationships. Through my work with the SCCA, I've had the opportunity to interact with local business owners in Seward; as I conduct these interviews, I am constantly being informed and reminded of the real-world pressures of our failing economy, the deteriorating environment, and the systematic oppression against those who are not privileged.
In an effort to make socially-responsible decisions and influence my environment in a positive way, I feel as if this internship has and will continue to educate me in ways that a college class never could.
The View from Employers
Stop in to the Strommen Center on the lower level of Anderson Hall from 10 a.m. – 2 p.m. Students can also register during this time for free lunch with an alumni.
Monday, Nov. 15 – non-profit and social services day
Tuesday, Nov. 16 – arts and communication day
Wednesday, Nov. 17 – government day
Thursday, Nov. 18 – business and for-profit day
Friday, Nov. 19 – science and technology day