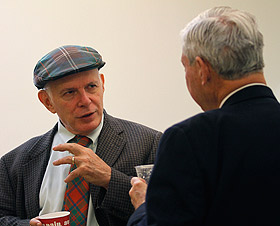 Minneapolis-St. Paul enjoys the highest civic health of any metropolitan area in the country, according to a report released on Monday by Augsburg's Center for Democracy and Citizenship (CDC). People in the Twin Cities are the most engaged in their communities—they are more likely to volunteer, to participate in community activities, to vote, and to engage with their neighbors. This healthy civic behavior correlates with greater economic well-being and individual health and happiness.
The report, "A Tale of Two Cities," is a joint project of the National Council on Citizenship (NCOC), the Florida Joint Center on Citizenship, and the CDC. It compares Minneapolis-St. Paul with Miami, which is shown to be the country's least civically engaged city. While the two metro areas differ in many factors, the report indicates that these differences—including demographic measures of education and income—do not explain the disparities in their civic engagement.
The report research identifies several areas that contribute to the higher levels of Twin Cities' civic engagement:
Schools in Minnesota collaborate more effectively with community organizations, teach students civic knowledge, and help build a civic atmosphere of trust.
Twin Cities residents seem to enjoy stronger social networks—more often families eat together, connect via the internet, and talk to neighbors.
Citizens in Minneapolis-St. Paul have higher rates of satisfaction and trust of their government, and their public institutions foster greater collaboration among diverse populations.
Twin Cities residents are more than twice as likely to volunteer as Miami residents.
In a commentary for the St. Paul Pioneer Press and a blog posting for the American Democracy Project, CDC director Harry Boyte draws parallels to the Civil Rights movement, recalling when the Southern Christian Leadership Conference was formed to spread a "culture of civic empowerment" and promote nonviolence and a desire to change.
Just as "the Montgomery Way" helped spread democratic change in the South, Boyte believes in a Minnesota Way, which "teaches the skills of collaborative work across differences, connects institutions to the life of the communities, and generates a spirit of optimism that people can share their future together."
He points out that the "civic treasures" in Minnesota—including educational institutions like Augsburg that work across differences to foster a culture of civic empowerment—are critical factors in preparing students to discover how they can become agents of change to spread democratic hope and reform.
Read Harry Boyte's St. Paul Pioneer Press commentary at http://www.twincities.com/ci_17183122?nclick_check=1.
Read his blog post at American Democracy Project at http://adpaascu.wordpress.com/.