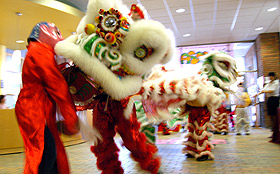 This Friday, many of Augsburg's Asian students and members of the entire Augsburg community will be celebrating the Lunar New Year—with 2011 marking the year of the rabbit representing grace, culture, and beautiful manners. All are invited to participate in this celebration.
The Lunar New Year is not celebrated solely by the Chinese; different Asian communities each have their own traditions for celebrating this festival. It comes from the lunar calendar and falls on a different day each year. Additionally, each year represents an animal in the Chinese zodiac cycle of 12 years.
The co-chairs of Augsburg Asian Student Association (AASA), Issei Kashima and Nikki Yang, hope the celebration will expose Augsburg students to the diversity of Asian cultures as each culture brings its own unique beauty to enriching this College's community.
"I find it beautiful that though some students have lived in America a long time they still keep their traditions alive," Yang said. The Lunar New Year event is a time of renewal and of family and friends, and AASA welcomes their Augsburg family to participate in this meaningful celebration.
Penh Lo, the advisor of AASA and director of Pan-Asian student affairs, relates this to Augsburg's mission statement, which involves educating students to become "informed citizens." He hopes this event will lift up the presence of the Asian communities here and better inform the student body that there is a significant number of students who do not come from a Lutheran and/or Scandinavian background. Currently Asian students make up the second largest population of students of color at Augsburg.
The event is free and will include food, Chinese calligraphy, a traditional Vietnamese dance, and a great opportunity to enjoy time together. There will be Lion Dances, which represent a god coming down to earth to chase away bad omens; this is a way to bring in the blessing of a new year. A fashion show will also be held, showcasing the traditional outfits of various Asian cultures. Events will be held in the commons of Christensen on Friday, Feb. 4 from 5-8 p.m.
Article by Katelyn Danelski