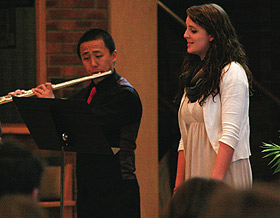 Wednesday's chamber music recital is a showcase of small ensembles of music students. In the audience will be their classmates, families, and friends. Also in the audience will be many donors who established the scholarships that have supported these students.
Following the recital, the High Tea will give donors and students a chance to meet each other or to get reacquainted. During the tea, announcement will be made of the more than 50 music scholarships awarded for next year, including the prestigious Dorothy Lijsing Kleven Scholarship and the Orville and Gertrude Hognander Scholarships.
For many of these students, the music they will perform has been made possible by scholarships that have allowed them to work less and focus on music. Graduating senior Becky Shaheen, the current Dorothy Lijsing Kleven Scholar, recalls a comment she made during her sophomore year: "Music is my life … and I've been able to dedicate
more time than ever before to music. I am finally realizing that being a musician is possible."
But this High Tea goes beyond scholarship talk. "There's lots of Augsburg history at this event," says music professor Merilee Klemp '75. "It's about passing on a tradition," since most music donors are also music alumni or family members honoring alumni.
Klemp remembers how Gertrude Hognander '36 enjoyed talking with students about the music trio she played in with Jerry Formo '37, and Kristofer Hagen '29. She and Formo kept in close touch through many years until her death in 2005; and now all three trio members have music scholarships in their names that continue to support Augsburg music students. At the High Tea, students hear heartwarming stories about donors meeting each in the Augsburg Choir, about memorable music professors, and about lifelong memories made during music tours that took Auggies around the Midwest, through the U.S., and across the ocean.
Music scholarships
The Hognander Scholarships are awarded to two students each year, recognizing performance skills and accomplishment. Laura Schmidt, one of this year's graduating Hognander Scholars, is spending the next year auditioning for local choral ensembles and performing her own music at every chance she gets, while determining her next career step. Flutist Kou Lee, the other Hognander Scholar, is considering graduate school options.
The 2011-12 Hognander Scholars will be senior Amanda Lowe, studying music therapy and vocal music, and junior Spencer Miller, a pianist who is currently studying in Vienna.
The Dorothy Lijsing Kleven Scholarship will be awarded for the third time to a first-year President's Scholar who is involved in choral music. This award will provide full tuition for the student's four years. Becky Shaheen plans to work as a church music director and at a recording studio, audition for several ensembles, and perform with her band—all to help focus her interest in graduate school.
The Jerome and Winifred Formo Scholarship will be awarded for the first time this year. Jerry and Winnie Formo, both 1937 graduates, sang in the first Augsburg Choir concert. Their family established the scholarship in 2009.
The Chamber Music Recital begins at 4 p.m. in Hoversten Chapel on Wednesday, April 27.