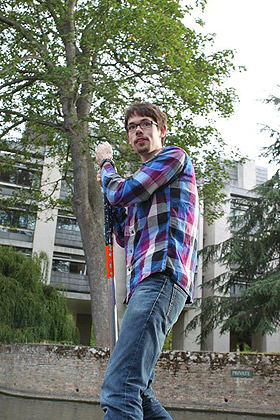 Imagine spending all day with intelligent, thoughtful, inquisitive people, listening to lectures and having discussions over tea, pondering the ethics of space exploration, the avenue to true knowledge, and the question of what makes humans human. Except for the tea and the space exploration, it sounds a little Aristotelian. To those who love learning, it sounds like a dream.
This is how Austin Smith '14, a religion and computational philosophy major from White Bear Lake, Minn., spent part of his summer. Smith was accepted to the Faraday Institute for Science and Religion's one-week course titled "Science and Religion in Dialogue in 2011."
The course, held at St. Edmund's College in Cambridge, covered topics at the intersection of science and religion and featured internationally renowned speakers in areas including astrophysics, theology, neurology, nuclear science, biology, and ethics.
"It was a whirlwind; there is no other way to describe it," Smith said. Each day consisted of four one-hour lectures followed by a question and answer session with all of that day's lecturers. During the Q&A sessions and the two daily breaks for tea, Smith said all of the lecturers would often be present. "There we had a lot more opportunity to connect with them and to be able to pick their brains."
Smith learned about the program while doing online research for graduate school programs in philosophy and science. He found the summer course at the Faraday Institute and decided to apply. "When I saw the institutions where the professors came from, I was really excited."
One of Smith's favorite speakers was Ian Hutchinson, professor of nuclear science and engineering at MIT. Hutchinson discussed "scientism," the notion that science is the only avenue to true knowledge. "He said science is not the be-all and end-all," Smith said. "It was a very interesting talk to start the week and set the tone."
Smith especially enjoyed hearing the lecturers speak succinctly and passionately about their areas of expertise. "Ian Hutchinson spoke about an area where he's done a lot of examination, thought, and reflection, and was able to boil it down into a 1-hour talk. It's fascinating to hear passionate people talk about what they are passionate about."
Perhaps most importantly, the course reinforced Smith's notion that that we are never done learning, an important idea for a young man who would like to return to Augsburg one day as a professor. "I sat next to a gentleman who had been a science teacher in England for 40-some years, but he was there every day asking questions and taking notes and trying to learn something. It was encouraging to see that the pursuit of knowledge is not just for the young," he said.