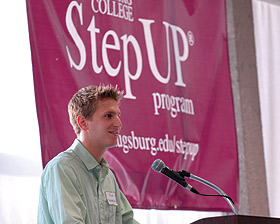 The StepUP program at Augsburg College began in 1997 in response to prompting by students who found it difficult to live on a college campus while in recovery. Since then, more than 500 students have participated in the program. The Augsburg College StepUPprogram is the largest, most successful recovery community on a college campus in the U.S. It provides a life-changing experience that allows students to thrive in a community of accountability and support where they can achieve academic success and build life-long friendships.
The program holds a spirituality breakfast in the fall, sponsored by the StepUP Program, Minnesota Recovery Connection, and Recovery Works! This year's keynote speaker, Thérèse Jacobs-Stewart, has been a practicing psychotherapist, meditation teacher, and international consultant for more than 25 years. In 2004, she founded MindRoads Meditation Center, a neighborhood practice center integrating contemplative practices from both East and West, and home of the Saint Paul chapter of "Mindfulness and 12-Steps" meetings.
Below Charles T., a student in the StepUP Program, shares his thoughts on what the program means to him.
For the past 15 years, the StepUP program has been providing young people in recovery an opportunity to excel in an arena that usually proves to be a disaster for young, unguided missiles such as myself—college. Being from New England, I never once imagined myself to spend any length of time in the Midwest. However, after a less-than-successful year at a school in Colorado, the fine liberal arts institution known as Augsburg appeared as a blip on my radar.
My initial reaction to this prospect was that of skepticism. Yet, I found myself pleasantly surprised by the eclectic community and welcoming staff of the StepUP community.  For the past year and a half, my experience within this community has only grown in profundity. Although there have been moments of doubt and frustration during my experience here, I cannot imagine a better collegiate community to be able to fall back on. It is a great comfort to know that I will have this support net for the duration of my time as a student here.
One of the most valuable aspects of my experience at Augsburg thus far has been to know I have ample room to learn even through failure. I feel privileged to be a part of a program that has enriched and supported so many before myself, and that will continue to open the doors for others to grow both as individuals and as students.
Photo: Tyler B. speaks at the 2009 Spirituality Breakfast