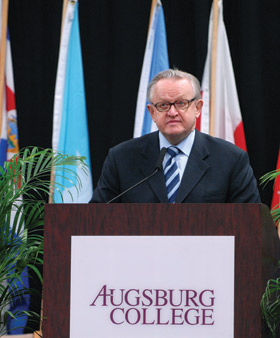 It's more important than American Idol voting!
And you could win a photograph with Geir Lundestad!
The Nobel Committee will announce the 2011 Nobel Peace Prize winner this Friday, October 7 (9 a.m. GMT, 4 a.m. CST), which means you only have two days to guess who you think should win.
The Nobel Peace Prize forum has set up a Facebook discussion thread, so post your guess and you might win a signed photograph of you shaking hands with Dr. Geir Lundestad, Secretary of the Norwegian Nobel Committee, during the 2012 Nobel Peace Prize Forum (March 1-4 in Minneapolis)!
Pictured here is Noble Peace Prize Laureate, Martti Ahtisaari, who spoke at the 2009 forum held in Minneapolis.
Vote, and tell your friends!