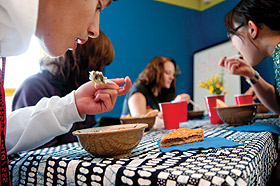 Augsburg's Thrivent Leadership Fellows, a group of students working to engage the Augsburg community in service, need your help for the Multicultural Dinner at the Brian Coyle Center on Monday, Apr. 2. Up to 40 volunteers are needed for this event, so all faculty, staff, and students are welcome to participate.
This annual event will be coordinated this spring by the Thrivent Fellows in cooperation with West Bank Community Coalition, CHANCE (Cedar-Humphrey Action for Neighborhood Collaborative Engagement) from the Humphrey School, and the Trinity Lutheran congregation. Augsburg's Campus Kitchen program is providing food for the dinner.
Maya Keith '13, a Thrivent Fellow, said the dinner will feature foods representing the different cultures in the Cedar-Riverside neighborhood.
"The purpose is just to get people from the neighborhood together to share a meal," Keith said. Minneapolis City Council Member, Cam Gordon, will speak at the dinner, and the Brian Coyle youth group will do a presentation, but Keith said the programming will be kept to a minimum so that people can simply talk with each other.
Volunteers are needed from 4-5 p.m. (set up) or 5-7 p.m. (servers) or 7-8 p.m. (clean-up) or all three shifts. If interested in volunteering please contact Maya Keith at keith@augsburg.edu or Shana Strong at strongs@augsburg.edu
About the Thrivent Leadership Fellows program
Augsburg students, staff, and faculty are engaged in actively strengthening their communities—both on- and off-campus. The Thrivent Leadership Fellows Program exists to harness and direct that energy through organized volunteer events and activities. Eight student Thrivent Fellows work together to bring a variety of volunteer opportunities to the Augsburg community, like cooking classes that benefit local shelters, food shelf drives, and ACT tutoring sessions. Through sharpening their leadership and communication skills, the Fellows aim to get the Augsburg community involved in grassroots volunteerism.