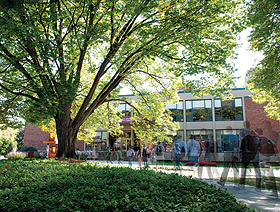 The Augsburg mission affirms that the College community is committed to intentional diversity in its life and work. The fourth annual "Creating an Inclusive Campus" conference, which will be held May 22-24 at Augsburg, calls us to ask what this commitment means, to celebrate what we are doing right, and to engage in dialogue about how we can continue to improve.
The opening session on Tuesday, May 22, is "Transformative Conversations: The Art of Building Bridges and Civil Spaces." In this session, a student panel will share their experience of dialogue across differences. Participants will explore concrete skills that can support the authentic connections necessary for creating an inclusive campus community. The session will also provide an opportunity to apply the concepts of intergroup dialogue in conversations about political and religious issues that often become divisive in an election year.
The closing session on Wednesday, May 23, "Fighting Poverty in Augsburg," includes a student panel with faculty and staff who became engaged in this discussion during last fall's Life of the Mind retreat. This session aims to:
1. raise awareness in the College community about the reality of poverty and its consequences for many Augsburg students;
2. provide resources for students, faculty, and staff to address some of the consequences of poverty, such as acquiring textbooks and finding housing options for homeless students; and
3. explore realistic short- and long-term solutions to address the issue of poverty among Augsburg students.
Session details:
Some of the session topics are:
— Why adult learners are exactly alike and completely different from traditional-aged students – Judy Johnson and Jessica Fox-Wilson
— Developing intercultural competence through international experiences – Orval Gingerich and Cheryl Leuning
— Using the neighborhood as a classroom – Matt Maruggi and Mary Laurel True
— Calculus in Nicaragua – John Zobitz, Andrea Dvorak, and Mark Lester
— Queer in Queernavaca/LGBTQ students abroad – Antonio Ortega
— Hiring diverse faculty – Nancy Rodenborg and Andrea Turner
— Reimagining the theater department – Darcey Engen, Martha Johnson, Sarah Myers, and Rick Shiomi
— Developing intercultural leadership – Akiko Maeker and Paul Maeker
Please register by Monday, May 21 to provide a count for meals and session attendance.