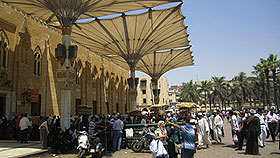 A group of students from Augsburg College traveled this year to Egypt to explore the impact of grassroots civic engagement and the challenges modern Egypt faces in the wake of its largely youth-led 2011 revolution.
The trip, led by Joe Underhill, associate professor and chair of political science, and Mohamed Sallam, director of Pan-Afrikan Student Services, was the first opportunity for some students to travel outside the United States. The cultural differences between the U.S. and Egypt were especially pronounced for these individuals, who during post-trip presentations discussed Egyptians' impressive hospitality while also recalling the humor of trying to learn a barter system only after purchasing over-priced merchandise.
For Sallam, examining the difference between contemporary Egypt and the country he recalls from his youth was equally interesting. Sallam's family moved to the United States from Egypt before he was born, but as a child he regularly visited the nation. He is fluent in Arabic, which helped he and Underhill organize the trip.
"I was always aware of the changes that were taking place from year to year," Sallam said. "However, what made this time different was the excitement that the people we encountered expressed about the growing public discourse around social problems and politics. For me, those experiences were the most outstanding."
Trip fosters critical thinking and civic engagement, helps develop of global citizens
Egypt's political changes have been an axis through which several Augsburg programs, lectures, and travel experiences have connected. This year Augsburg offered students a Model United Nations course through which student delegates represented Egypt at the organization's conference in New York City. The College also hosted the Batalden Symposium on Applied Ethics, and the convocation presentation featured founders of the Engaging and Empowering Egyptian Youth (EYouth) project. The three EYouth members who visited the College delivered a lecture on their experiences as protesters, presented observations on the process of political change, and participated in additional forums and workshops.
When Augsburg's study abroad participants visited Egypt, they met with the EYouth students who had traveled to the Twin Cities. The groups continued the dialogue that began on Augsburg's campus, identifying and discussing complex societal issues as well as the common threads that unite young people, such as hopes for the future and post-graduation goals. The students challenged preconceptions regarding each other's culture, and the Augsburg students benefited from candid discussions that focused on the Egyptians' civic participation and contribution to social change.
"Our students learned about civic engagement, which is a key part of Augsburg's mission statement," Underhill said. "We exposed them to people who are living civil duties to the extreme. It doesn't get much more influential than putting your life on the line for a revolution."
In post-revolution Egypt, civic engagement gives people a renewed sense of ownership in their country, according to Sallam. "Previously most private citizens were excluded from participating in public political life," he said. Now, "people use their creativity and talents to make their lives and the lives of other Egyptians more meaningful."
In addition to learning about Egyptian politics, the Augsburg students researched environmental sustainability, Muslim-Christian relations, and the effects of tourism, among other topics. Trip participants met with representatives from more than a dozen youth activism, economic development and environmental organizations that work to improve Egypt in its present time of political and societal transition. These visits expanded the knowledge students previously gained in the Augsburg classroom.
Underhill and Sallam partnered with the College's award-winning Center for Global Education to offer the trip. "Nurturing personal and professional connections makes our program meaningful and sustainable," said Sallam. He and Underhill used their academic expertise, skills, backgrounds, and networks of international contacts to enrich students' travel experiences by granting them access to unique and infrequently visited destinations.
Read about Augsburg alumna Mai Sia Yang's Egypt experience.