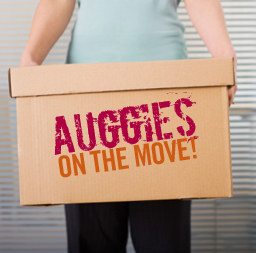 As part of Augsburg's Campus Space and Master Plan commitment to make the best use of our existing space, several construction projects were completed during the spring and summer. The 20-year plan, which was established in 2010, is shaped by the College's urban location and footprint and recognizes that space use is critical to enhancing student service, stewarding resources, and maintaining college affordability.
In support of these goals, the Gage Center for Student Success opened last spring on the link level of Lindell Library, co-locating numerous student services office in a central and highly visible location. In addition, the College's Admissions office moved into a welcoming new space in the lower level of Christensen Center. This summer, the College also moved the Strommen Center for Meaning Work to a more visible and accessible location on the main level of Christensen Center—placing at the heart of campus our commitment to student success beyond graduation.
Numerous other departments also moved to new spaces this summer. See the following listing and the attached map for information about the major departmental moves:
American Indian Studies – Memorial 218
Augsburg Abroad – Christensen 2
Center for Global Education – Anderson 23
College Possible (formerly Admission Possible) – Lindell 202 lobby
Ethnic Student Services Directors – Christensen 2
Event and Conference Planning – Christensen 203
Facilities – Foss 17
International Student & Scholar Services – Christensen 2
Mathematics – Science 114
McNair Scholars Program – Science 152
Nobel Peace Prize Forum – Foss 170
Nursing – Science 116
Purchasing – Memorial 20
Scholastic Connections – Christensen 100
Strommen Center for Meaning Work – Christensen 100
Undergraduate Research and Graduate Opportunities (URGO) – Science 152
These moves were made within the context of Augsburg's long-term plan for the demolition of the current Science building and the construction of the Center for Science, Business, and Religion.