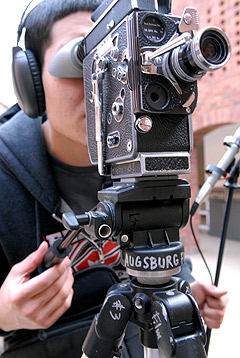 The cinematic creations of nine Augsburg College filmmakers will be featured at the 2012 ACTC Student Film Festival on Wednesday, November 14.
The festival will take place at the St. Anthony Main Theatre in Minneapolis and begin at 7 p.m.
The ACTC Student Film Festival, now entering its second year, features a selection of works by students and recent graduates from the five Associated Colleges of the Twin Cities (ACTC) member institutions: Augsburg College, Hamline University, Macalester College, St. Catherine University, and the University of St. Thomas.
The festival will screen a total of 16 works chosen from submissions that included more than "60 short films ranging from traditional narrative and documentary films to short shorts, experimental, and avant-garde work," according to the festival web page.
The ACTC Student Film Festival is considered a celebration of students' digital storytelling abilities. Entry submissions were created during the 2011-12 academic year through a variety of classes and activities at the ACTC institutions, according to Wesley Ellenwood, Augsburg College communication studies instructor.
Ellenwood, who serves on the ACTC Student Film Festival committee, said Augsburg students submitted work from virtually every class offered in the College's film studies program.
Excitement for the festival is spurred, in part, through the event's ability to share each filmmaker's short with an audience that reaches far beyond the student's professors and peers.
"The biggest perk of the festival is students' ability to go off campus and have their work presented in a formal setting," Ellenwood said. "With 200-plus seats in the theater, the students get to see it presented in front of their friends and families as well as college administrators and the community."
Five film festival exhibitors will be recognized for outstanding achievement at a reception and award presentation held immediately following the screenings. Stephan Clark, Augsburg College assistant professor of English, will serve on the jury that selects the distinguished award winners.
At the closing reception, "students have the joy of talking to other filmmakers about what other projects they're working on," according to Ellenwood. "The festival exposes them to a broader community—a broader landscape—of what's going on in film."
The 2012 film festival selections created by Augsburg College student and alumni filmmakers include:
Angel by Carly Lassegard
Das Ball by Connor Krenik
Dog Clown Cat by Ian Thompson
equus too by Casey Bargsten
Finger Bang by David Ishida
Psychosis by Kyle Scmidt
The Edit by Jake Johnson
Traveling Medicine Show #253 by Joe Funk
Untitled by Caleb Wagner