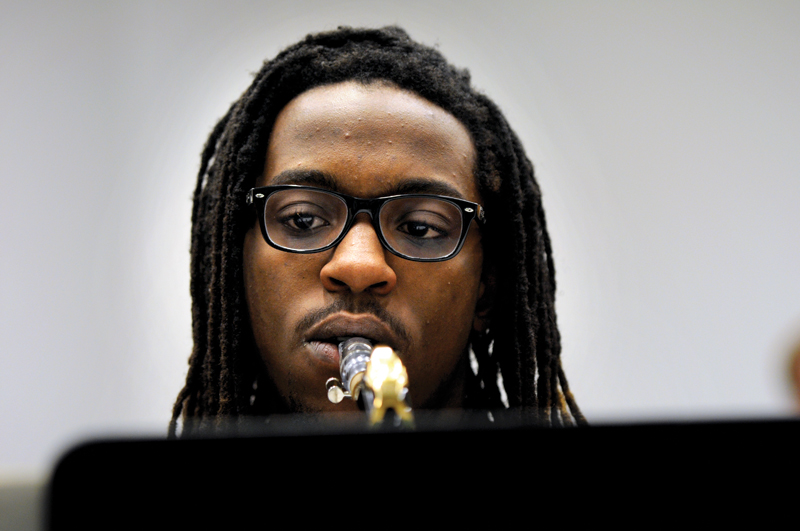 DeVante Jackson '17 performed jazz around campus and across town during his first semester at Augsburg College.
Jackson—a saxophone player and pianist—regularly joined the Augsburg Jazz Band on stage in Hoversten Chapel, and had experiences only available to students who study in an urban location. Jackson amplified his formal music education by accompanying professional groups and amateur artists at theaters, jazz clubs, and cultural centers throughout Minneapolis and St. Paul.
"The Twin Cities are a vibrant area for jazz musicians," according to Andrea Canter, the Twin Cities Jazz Society's chair of education. When compared to other U.S. cities including New York and Los Angeles, the Minneapolis-St. Paul metro area is "…smaller in terms of population, but we have an awful lot going on. We have long been considered one of the top jazz centers in the country."
Discovering his voice in music
Jackson selected Augsburg for his post-secondary education because he wanted to benefit from the high-caliber instruction at the College and to capitalize on the lively music scene in Minnesota's largest metropolitan area.
"There's some debate about the value of what formal schools teach versus the 'learning-by-doing,'" method upon which jazz was founded, according to Canter. "But, I think DeVante—and students like him—have found the 'sweet spot.'"
Jackson, a St. Paul native, grew up playing in local student groups, and he is taking his musical talent to the next level with the encouragement and expertise of Augsburg faculty members.
When Jackson was in the midst of his college search, Robert Stacke, chair of music, invited him to audition at Augsburg College and sit in with its jazz group. "It's when a student comes by and plays with the band that they find out what we're about," Stacke said. "They feel at home, like they're already welcome."
According to Stacke, the College was a natural fit for a musician like Jackson, someone who wanted to combine high-level music instruction with a college degree in a complementary field.
"The reason I like playing music is because of my relationship with people," Jackson explained. "It's because I get to be on stage and show people my talent. It's a connection I form with them, so I might do communications or I might do sociology. We'll see."
Jackson is exploring a variety of College courses during his first year at Augsburg in order to determine which degree program will best match his interest in music. And, no matter which major Jackson selects from Augsburg's 50 undergraduate offerings, he will continue to mature as a student and as a musician—developing his life story with each jazz composition.
"DeVante talks with his horn," Stacke said. "He really does."
Jackson attends Augsburg on a performing arts scholarship, a benefit that gives him the flexibility to fuse his desire for a liberal arts education with his passion for jazz.
"At Augsburg, I've been challenged to discover myself as a musician—to find my own sound," Jackson said. "The instructors are also challenging me to try new things and study the basics."
These "basics"—he said—are often the most difficult aspect of music to master. "You would think practicing a scale would be easy, but there are more layers once you get into it. It's like a sport: you practice your free throws, and it helps in the game."
Faculty-professional networks
The Augsburg Music Department embraces the philosophy that students and instructors alike should share their music with live audiences, according to Stacke.
Instructors are "constantly working to get students engaged with the professional circles," he said. "You need to get out in front of the community because it's such a joy to perform."
Jackson agreed that Augsburg musicians benefit from the College's local network, which assists students in finding performance opportunities. He describes each gig as a way to "express yourself in front of people who don't know you, which is a good feeling if you're on the path to becoming a musician."
Live performances and improv opportunities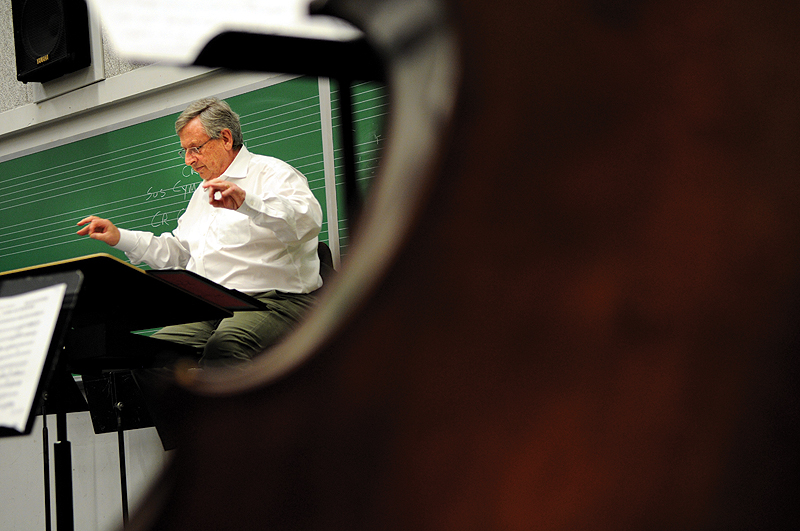 Each performance couples enjoyment with experimental education, according to Canter.
"If you're playing with professional people, it raises your experience up to a higher level," she said. Students are "learning band etiquette, band performance, and band communication" each time they get on stage.
Jackson plays with the Minneapolis Capri Theater's Big Band, the PipJazz Youth Program, the amateur group Remember the Planets, and a number of other ensembles through informal arrangements.
Augsburg's location makes it easy to find a variety of performance opportunities. Jackson has played at the Selby Avenue Jazz Fest and the Dakota Jazz Club as well as the Artists' Quarter—a venue named in DownBeat magazine's list of the 150 "best places to hear live jazz worldwide."
Jackson has performed at numerous other engagements in the Twin Cities, and he cites smaller locations including the Acadia Café and the Red Sea as especially encouraging to student musicians with some previous performance experience. Jackson's favorite aspect of a show is incorporating improvisation into his performance.
"I get tired of just reading what's on the paper," he said. "Jazz is the music I can express myself with."
Jazz compositions are simply "a guideline. It's just written like a bunch of eighth notes, and it'll say 'swing,'" Stacke said, describing the genre's intended rhythm. "So, if you play it the way it's written, it's horrible. The style is something you learn over the years."
The influence of Augsburg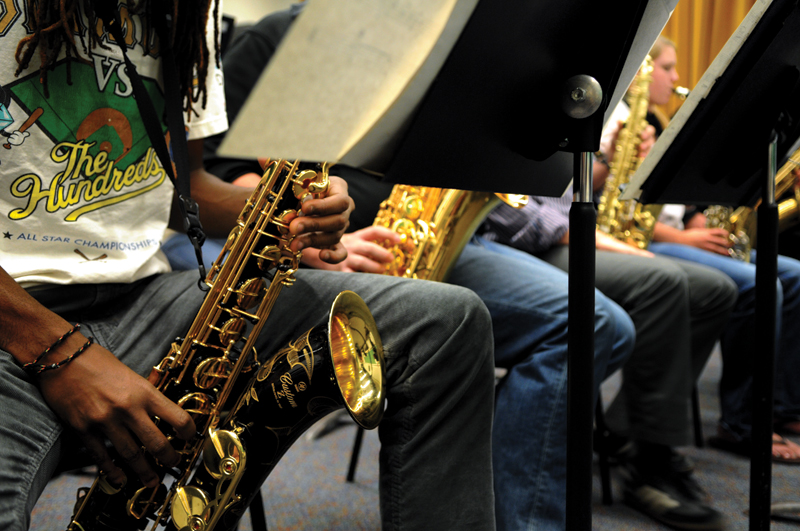 Jackson has found that his first few months at Augsburg have influenced his jazz—and his work ethic—in positive ways.
"Jazz reflects your whole day…from the shower you took this morning to the people you talk to," he said. And, the College's "environment to improve" has strengthened his dedication to practicing his instruments and to completing his school work.
"I've resolved to not just work hard but to devote all I can into completing my work and finishing a task all the way out," Jackson explained. "It's just the culture at Augsburg College. You gotta grind hard."