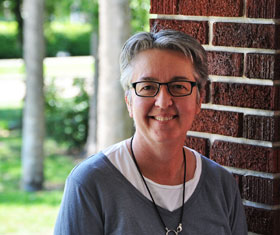 MINNEAPOLIS – Augsburg College is pleased to welcome Dr. Karen L. Kaivola as Provost and Chief Academic Officer effective July 1.
As the College's chief academic affairs officer, Dr. Kaivola will assume a key leadership position as the second in command to Augsburg College President Paul C. Pribbenow. She will serve as a member of the President's Cabinet and will bring her broad experience to bear in working with the faculty to serve Augsburg's distinctive academic mission.
"Our community is impressed by Dr. Kaivola's commitment to academic excellence, the depth of her scholarship and teaching, the strength of her faculty development experience, and dedication to community," said President Pribbenow.
"Dr. Kaivola's skills, experience, and values will serve the College well as we further our commitment to excellence in the liberal arts and professional studies, the faith and values of the Lutheran church, intentional diversity, and education for service in the city and around the world."
Dr. Kaivola will have wide-ranging responsibilities, including working with faculty, administration and the Board of Regents to implement the College's strategic vision; providing oversight of planning, development, and administration of the academic program for graduate, undergraduate, and international programs; accreditation; academic budgeting; and leadership of, and advocacy for, the faculty.
"I am deeply moved by Augsburg's commitment to its neighbors, to academic excellence, to the city in which it is located, and to helping diverse students realize their vocation or calling," Kaivola said.
"To be an Auggie is to play a defining role in one's community and in the world. Augsburg takes engaged learning seriously. It lives—to an impressive and, I think, unusual degree—a commitment to diversity that is frequently voiced but rarely realized. The College has much to contribute to contemporary conversations about the relationship between the traditional liberal arts and professional study, and I am honored to have the chance to join a community deeply committed to values that are so rich, inspiring, and sustaining."
Dr. Kaivola, currently the Associate Provost for Faculty Development and J. Ollie Edmunds Chair in English at Stetson University in DeLand, FL, was among eight highly qualified semi-finalists put forward by the Provost/CAO Search Committee. The committee—co-chaired by Kathy Swanson, Professor of English and President of the Faculty Senate, and Stu Stoller, Professor of Business Administration—reviewed credentials of nearly 100 candidates to recommend a panel of 15 quarterfinalists. The committee members then conducted off-campus interviews with eight individuals to reduce the pool to three finalist candidates for on-campus interviews.
During her 22 years at Stetson University, Dr. Kaivola served as a faculty member in the English department and held administrative positions as Senior Associate Dean in the College of Arts and Sciences, University Adviser on Gender Equity and, earlier, as Director of the Women and Gender Studies Program.
Dr. Kaivola holds a Ph.D. and an M.A. in English from the University of Washington. She earned a bachelor's degree in English from Georgetown University. Her commitment to academic excellence, the depth of her scholarship and teaching, her experience with faculty development, and her dedication to community clearly stand out.
Her scholarship demonstrates a rich record of publication and presentation on issues of power, gender, and sexual identity revealed through the works of Virginia Woolf. She has taught a range of classes, including literary theory, gender, art and politics, literature, fiction, and honors courses.
Dr. Kaivola will meet the Augsburg College Board of Regents on Friday and will be on campus several times during the next couple of months to begin the transition to her new role.