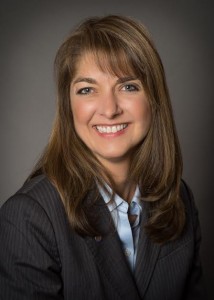 Augsburg College today announced the appointment of Beth Reissenweber as the College's Vice President for Finance and Administration and Chief Financial Officer. In this role, Reissenweber will lead Augsburg's finance, accounting, purchasing, facilities, and human resources functions. She will officially start at Augsburg in July.
"Maintaining a sound and sustainable financial footing is a core dimension of our long-range strategic plan," said Augsburg College President Paul Pribbenow. "We are pleased to have Beth join Augsburg and – building on the strong foundation created by prior CFOs of the College – lead the ongoing development of a sustainable financial model that supports our core academic mission and strategic priorities."
Reissenweber brings to Augsburg more than 20 years of experience in strategic financial planning, treasury and investment management, risk assessment, audit, and accounting. In her previous role, Reissenweber served for six years as vice president for finance and treasurer at Aurora University in Aurora, Ill. Prior to that, she held numerous leadership positions in finance at Roosevelt University in Chicago. In both of those institutions, Reissenweber worked with a diverse mix of higher education program offerings – much like the array of programs that Augsburg offers, which includes traditional day student undergraduate programs as well as post-traditional undergraduate, graduate and doctoral programs.
Reissenweber's professional background also includes financial leadership roles in not-for-profit legal services and early childhood development organizations.
"I am impressed and inspired by the work Augsburg does in serving an extremely diverse population of students and in engaging with its communities both regionally and internationally," Reissenweber said. "I am excited about the opportunity to bring my financial stewardship experience to this dynamic college and support the important work that Augsburg does in Minnesota and around the world."
Reissenweber holds a PhD in educational studies from the University of Nebraska-Lincoln, an MBA from Indiana University in Bloomington, Ind., and a bachelor's degree in business administration from Elmhurst College in Elmhurst, Ill. She is a registered certified public accountant (CPA) and a certified management accountant (CMA).
Augsburg College is set in a vibrant neighborhood at the heart of the Twin Cities, and offers more than 50 undergraduate majors and nine graduate degrees to nearly 4,000 students of diverse backgrounds. Augsburg College educates students to be informed citizens, thoughtful stewards, critical thinkers, and responsible leaders. The Augsburg experience is supported by an engaged community that is committed to intentional diversity in its life and work. An Augsburg education is defined by excellence in the liberal arts and professional studies, guided by the faith and values of the Lutheran church, and shaped by its urban and global settings.