Global leaders, top U.N. experts to address inclusive, sustainable peace building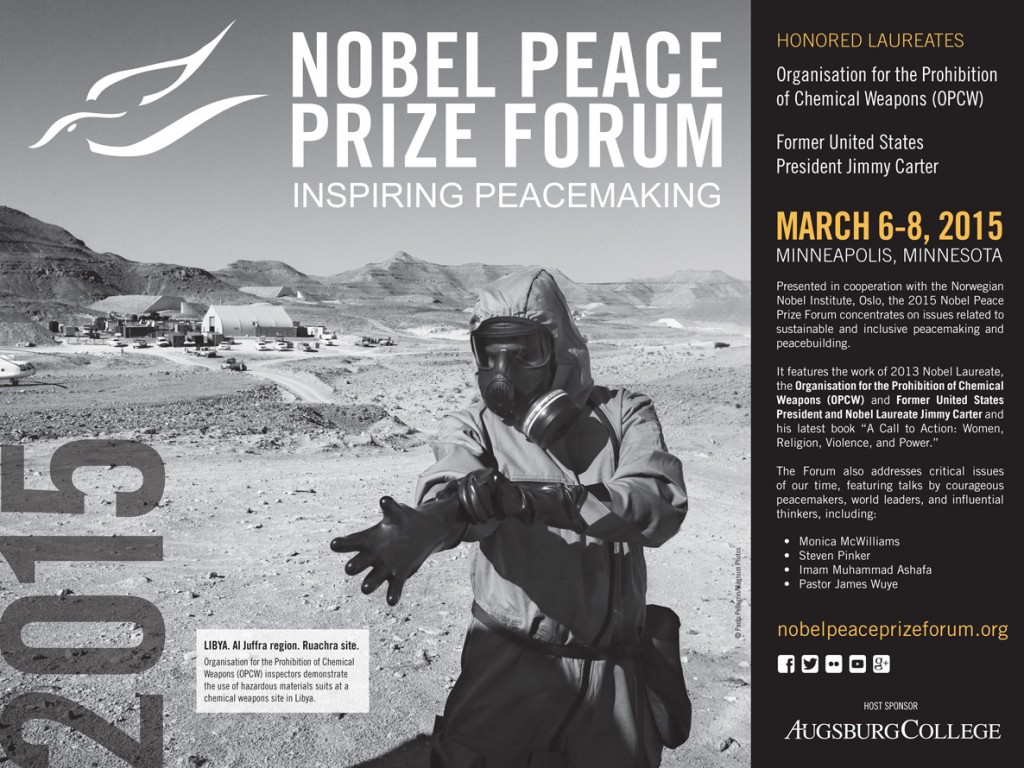 (MINNEAPOLIS) – The 27th annual Nobel Peace Prize Forum will explore the world's most pressing peacemaking issues faced by people across the globe. The March 6-8 event, at the Radisson Blu Downtown, will explore different aspects of peace building including human rights and democracy, disarmament, sustainability and inclusivity. Speaker highlights include:
March 6 – Human Rights and Democracy

Honored Laureate U.S. President Jimmy Carter in a moderated discussion, "Call to Action: Women, Religion, Violence, and Power."
Gro Harlem Brundtland, Deputy Chair of The Elders and Former Prime Minister of Norway, will discuss human rights and democracy.
Monica McWilliams, former Chief Commissioner of the Northern Ireland Human Rights Commission and signatory to the Good Friday Agreement.
March 7 – Disarmament and Sustainability

Honored Laureate the Organization for the Prohibition of Chemical Weapons represented by Director-General Ahmet Üzümcü will discuss disarmament and peace.
Adama Dieng, the United Nation's special adviser on prevention of genocide, will discuss the murder, torture, looting, and destruction of property that likely is a war crime and ethnic cleansing.
Imam Muhammad Ashafa and Pastor James Wuye of Kaduna, Nigeria, work to resolve conflicts between warring religious youth militias, but a decade ago the two men were mortal enemies.
Steven Pinker, author of The Better Angels of our Nature, will talk about four human motivations that can turn us away from violence and toward cooperation and altruism.
March 8 – Inclusivity in Peace Building

Sanam Anderlini, cofounder of the International Civil Society Action Network, will address the issue of women and extremism.
Annelee Woodstrom, who grew up indoctrinated in Adolf Hitler's Germany, will discuss her experience and that of ordinary German citizens.
Roxanne Mankin Cason, of the Cason Family Foundation; and Ingrid Stange, the founder of Partnership for Change; will discuss how women business leaders are promoting peace and empowering girls and women.
Purchase tickets, review the full schedule, and learn about lodging accommodations at peace.augsburg.edu
Under the auspices of the Norwegian Nobel Institute, the Nobel Peace Prize Forum inspires peacemaking by focusing on the work of Nobel Peace Prize laureates and important international peacemakers and peace builders. For more than 27 years, the Forum has been one of only three programs officially associated with the Norwegian Nobel Institute.