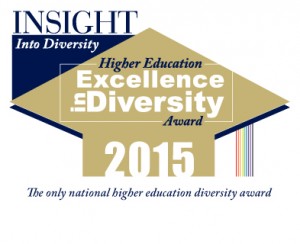 (MINNEAPOLIS) – Augsburg College recently received the 2015 Higher Education Excellence in Diversity (HEED) Award from INSIGHT Into Diversity magazine, the oldest and largest diversity-focused publication in higher education. As a recipient of the annual HEED Award — a national honor recognizing U.S. colleges and universities that demonstrate an outstanding commitment to diversity and inclusion — Augsburg will be featured, along with 91 other recipients, in the November 2015 issue of INSIGHT Into Diversity magazine.
"It is essential that Augsburg work from a foundation of diversity, inclusion, equity and intercultural competency if we are to achieve our mission of truly educating students to be informed citizens, thoughtful stewards, critical thinkers and responsible leaders," said Joanne Reeck, chief diversity officer and director of campus activities and orientation.
"Augsburg is committed to the continuous work of recognizing and removing tangible and intangible barriers for all members of our community so that individuals are fully affirmed in self and progressing to their greatest potential. We are honored to receive the HEED award as an outward reflection of our commitment to diversity."
INSIGHT Into Diversity magazine selected Augsburg for this prestigious award based upon the College's commitment to intentional diversity, investment in growth of community members and students, faculty and staff from diverse backgrounds, faculty commitment to diversity inclusion in the curriculum and to inclusive classrooms, and the level of student engagement and activism.
"The HEED Award process consists of a comprehensive and rigorous application that includes questions relating to the recruitment and retention of students and employees — and best practices for both — continued leadership support for diversity, and other aspects of campus diversity and inclusion. We take a holistic approach to reviewing each application in deciding who will be named a HEED Award recipient. Our standards are high, and we look for institutions where diversity and inclusion are woven into the work being accomplished every day across a campus," said Lenore Pearlstein, publisher of INSIGHT Into Diversity magazine.