Augsburg College students have paddled nearly 600 miles since Sept. 1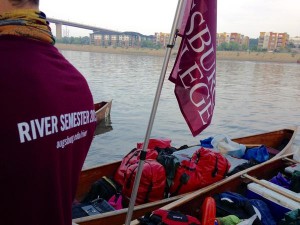 (MINNEAPOLIS) – After nine weeks living, studying and traveling on the Mississippi River in 24-foot voyageur canoes and paddling nearly 600 miles, a group of Augsburg College students is slated to land on Saturday at the St. Louis Gateway Arch.
The students, who departed St. Paul on Sept. 1 as part of their semester-long journey to the Gulf of Mexico, will land in St. Louis just as that city is discussing the grade of D+ given on the Mississippi River Basin "report card" by a consortium of environmental organizations and as the city celebrates the 50th anniversary of the Gateway Arch.
"Students on this trip are seeing and learning first-hand some of the reasons communities along the river are grappling with a watershed grade of D+. The river is used for many purposes and this puts a strain on the ecosystem, the infrastructure, and recreation," said Joe Underhill, associate professor of political science and creator of this high-impact learning program.
"We have students who, for their individual class projects throughout the trip, are taking water quality samples, looking at chemical concentrations in the river, water treatment and light pollution. Paddling and camping along the river, we have observed first-hand problems with water quality, runoff from farms and factories, and current state of the locks and bridges along the way. This is part of a complex set of political considerations around how to balance all these competing interests on the nation's iconic river."
Augsburg College President Paul C. Pribbenow will meet with the class in St. Louis on Sunday, Nov. 1 and Monday, Nov. 2.
The students participating in this semester-long learning program will earn as many as 16 credits in biology, environmental studies, health and physical education, and political science.
During the trip, students will:
Conduct a field research project on a topic such as water pollution, the Clean Water Act, sustainable agriculture in the watershed, political organizing around environmental issues, race relations and social justice, or urban riverfront revitalization.

Explore the history, literature, food, music and culture of the Mississippi River.

Gain skills tailored to meet the needs of partner organizations, including businesses,  graduate schools, nonprofits and government agencies.

Attend town hall meetings and meet with environmental organizations along the river.

Hear from guest lecturers about invasive carp, habitat restoration, authors Mark Twain and William Faulkner, ancient river civilizations, American Indian communities and their fight for justice, and the Dead Zone in the Gulf of Mexico.
The class will arrive in New Orleans around Thanksgiving. The group will return to the Twin Cities via train in mid-December and will arrive at St. Paul Union Depot.
An overview of the trip can be found on the River Semester website at augsburg.edu/river.
About Augsburg College
Augsburg College, a private liberal arts college in Minneapolis, offered the River Semester in partnership with Wilderness Inquiry, a nonprofit and inclusive travel provider that specializes in experiential programming and outdoor travel for people of all ages, backgrounds and abilities. Augsburg College offers more than 50 undergraduate majors and nine graduate degrees to nearly 3,600 students of diverse backgrounds at its campuses located in the vibrant center of the Twin Cities and in Rochester. Augsburg College educates students to be informed citizens, thoughtful stewards, critical thinkers, and responsible leaders. The Augsburg experience is supported by an engaged community committed to intentional diversity in its life and work. An Augsburg education is defined by excellence in the liberal arts and professional studies, guided by the faith and values of the Lutheran church, and shaped by its urban and global settings.