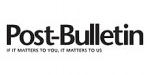 In his latest column for the Rochester Post-Bulletin, Dave Conrad, associate professor of business, counsels a reader who feels overwhelmed with conflicting advice by summarizing great leadership into one directive: treat employees with respect.
Conrad argues that, "Showing respect enhances a leader's influence and performance," but warns against insincerity. "I think employees are sensitive to phony displays of praise and recognition from their managers and perceive these acts as a form of manipulation," he writes.
Read: Dave Conrad: Good leaders show employees respect on the Post-Bulletin site.