State-of-the-art Hagfors Center a living demonstration of College commitment to equity, diversity
MINNEAPOLIS — Groundbreaking for Augsburg College's state-of-the-art, interdisciplinary Norman and Evangeline Hagfors Center for Science, Business and Religion is Friday.
More than 350 alumni, faculty, students, donors and friends of the College are expected to celebrate the groundbreaking for the Hagfors Center, designed to foster intersections among areas of study, support active learning, and connect the College to the community.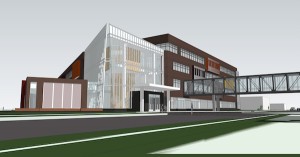 "The Hagfors Center is a living demonstration of the College's dedication to interdisciplinary student learning, urban placemaking and thoughtful stewardship. Our commitment to equity and intentional diversity – our pledge to prepare students of academic ability to solve the most complex problems of our world – will be on view Saturday when we celebrate the success of students from Minneapolis and Rochester, including a traditional undergraduate class with more than 42 percent students of color," said Augsburg College President Paul C. Pribbenow.
"The new Hagfors Center, which will create learning at the intersections of science, business and religion, is a commitment to our Lutheran heritage and identity. It's also a promise to explore diverse viewpoints, rich faith traditions, socioeconomic backgrounds, gender expressions, military commitments, learning styles and more."
In the 10 years since Pribbenow has led the institution, Augsburg has more than tripled the percentage of persons of color in the full undergraduate student body – growing from 11 percent in 2006 to 33 percent in 2016.
GROUNDBREAKING CEREMONY
Time: 4 p.m., Friday, April 29
Location: Building site for the Norman and Evangeline Hagfors Center for Science, Business and Religion, located near the intersection of 21st Avenue South and 7th Street South in Minneapolis. (Map, Directions)
FACTS ABOUT THE HAGFORS CENTER
Completed $50 million capital campaign May 2015, a year ahead of schedule. Classes begin January 2018.
Will house biology, business, chemistry, computer science, physics, psychology, math and statistics, religion.
HGA Architects designed the 135,000 square feet of collaborative learning space that includes 24 labs and 6,000 square feet of student-faculty research facilities and will be built by McGough Construction.
More information on the Hagfors Center: www.augsburg.edu/hagforscenter/
ABOUT AUGSBURG COLLEGE
At 10 a.m., Saturday, the College will confer degrees on a traditional, undergraduate student body that is the most diverse in the College's history. At 4 p.m., students in the adult undergraduate and graduate programs, and students from the Rochester location, will graduate. Commencement speaker for both ceremonies is Michael Botticelli, director of the White House Office of National Drug Control Policy.
Augsburg College is set in a vibrant neighborhood at the heart of the Twin Cities, and offers more than 50 undergraduate majors and nine graduate degrees to nearly 3,600 students of diverse backgrounds. Augsburg College educates students to be informed citizens, thoughtful stewards, critical thinkers, and responsible leaders. The Augsburg experience is supported by an engaged community committed to intentional diversity in its life and work. An Augsburg education is defined by excellence in the liberal arts and professional studies, guided by the faith and values of the Lutheran church, and shaped by its urban and global settings.