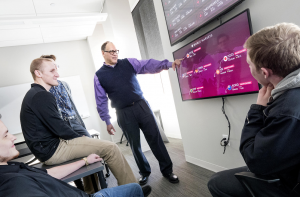 In a recent Star Tribune article, reporter Neal St. Anthony spoke with Marc McIntosh, professor of Finance at Augsburg University, about the new home for the business department at the Norman and Evangeline Hagfors Center for Science, Business, and Religion.
"It brings alive the course materials," McIntosh said about the building's state-of-the art technology. "This building is not just about studying stock-and-bond markets. … We're active, including working with small business owners from Somalia and Ethiopia. We also work in the area of financial literacy. And also what really separates us is our diversity."
The article also highlighted other attributes of Augsburg. "The university is best known for its inner-city location, solid academics and presidential recognition for community service; to say nothing of its MIAC-championship basketball team playing in the NCAA Division III tournament this weekend," St. Anthony wrote.
Read full article on the Star Tribune website.