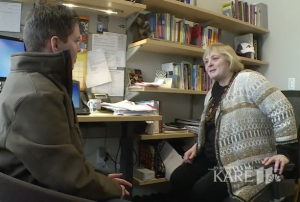 When The Economist named Minneapolis the third most expensive city to live in North America, just after New York and Los Angeles, reporters from Kare11, Fox 9, and WCCO turned to Augsburg University Professor of Economics Jeanne Boeh for answers. Kare 11's Gordon Severson questioned the ranking, given that the latest U.S. Census data listed Minneapolis as the 46th most populated city. The Economist study analyzed 150 items such as food, utility bills, rent, and private schools, but left out the cost of owning a home.
Boeh, also chair of the Business Administration department at Augsburg, argues that the study isn't exactly accurate. "It doesn't really reflect the average experience of the people who are living here right now," Boeh tells Kare 11. "If I go to San Francisco, which technically we're supposed to be more expensive than, the average cost of a house is well over half a million dollars. So, it doesn't really make sense that Minneapolis would cost more to live in."
While the study's measures may be more applicable for high-end executives who travel internationally, Boeh says it's not an accurate representation when it comes to the average Minnesotan.
See full story on the Kare 11 website.
See full report from The Economist on The Economist website.