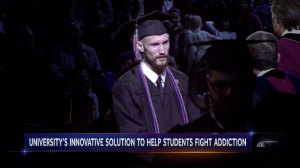 NBC Nightly News with Lester Holt reported about how Augsburg's StepUp program has successfully helped students in recovery to graduate.
NBC'S Catie Beck talked with Neil King '18 about the support StepUP provided him while he was a full-time student at Augsburg.
According to NBC, King began using drugs at age 14, and discovered Augsburg's StepUp program four months into his recovery. "I really learned to believe in myself, and my skills and capabilities," said King, who is now heading to graduate school.
StepUp Program Director Tamarah Gehlen also was interviewed by NBC. "We always say that no one should have to choose between recovery and a college education."
See full interview on NBC's website.