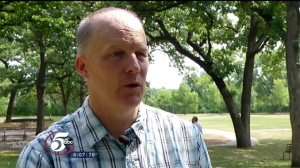 Fifteen Auggies are paddling down the Mississippi River for 100 days while learning about history, politics, and the environment for 16 credits.
An experiential education is a trademark of an Augsburg education. "We do this because we think this is the best way to learn both about the Mississippi River and to learn in general about what's going on out in the world," said River Semester program director Joe Underhill, who will be teaching along the way.
For many students, this is their first time camping. "I've never camped, never canoed in my life. I'm nervous because it's out of my comfort zone but I'm very excited to see what it's going to be like", student Kristy Ornelas told KSTP.
This is Augsburg's second River Semester. The first was in 2015.
Watch full report on KSTP's website.