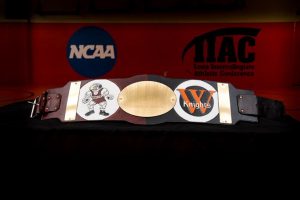 Augsburg wrestlers will celebrate 70 years of wrestling history at Thursday night's "Battle of the Burgs," an annual battle between Augsburg University and Wartburg College.
Augsburg Wrestling Coach Jim Moulsoff spoke with KSTP about the tradition. "It's a great rivalry. It's been Augsburg or Wartburg that's won the last 26 national titles in Division III wrestling. It's always an honor to compete against those guys," he said. "It's real. It's a real rivalry."
The reporter also spoke with Augsburg star wrestlers Lucas Jeske and Ryan Epps, who won individual national titles last year.
"It's really inspiring and just being able to be a part of that is really big. I just want keep adding to [the wall of trophies] and making the past generations of wrestlers proud," Epps told KSTP about what it is like to be part of this annual tradition.
The "Battle of the Burgs" will take place at Augsburg University on Thursday, January 31st at 7:30 p.m. at Si Melby Hall.