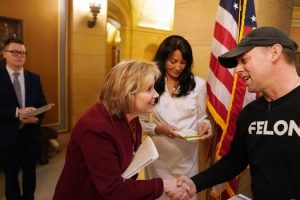 The Star Tribune reports that Minnesota's first First Lady in years is aiming to be unlike any other in state history, including her new role as an independent contractor at Augsburg University.
According to the Star Tribune: Gwen Walz is the first First Lady with an office in the Capitol. From there, she's begun to craft an ambitious policy portfolio that includes education and corrections, though she's quick to point out that housing and health and other issues are all interrelated.
At Augsburg, she's serving in two roles: as Special Assistant to the President for Strategic Partnerships and as a Fellow in the Sabo Center for Democracy and Citizenship.
The announcement by Augsburg President Paul Pribbenow said that Walz is a long-time friend of the university. "We specifically focused on issues of diversity and equity in the Rochester area," Pribbenow noted. "We also joined with Mrs. Walz in promoting a program to offer college courses in Minnesota prisons."
Read the Augsburg announcement.