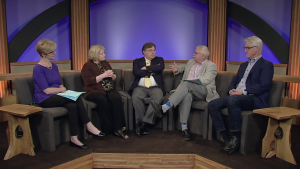 Jeanne Boeh, professor of economics and business department chair at Augsburg University, was recently a featured panelist on the weekly TPT news program, Almanac.
She provided commentary about trade, workforce participation, and interest rates.
The panel included Boeh as well as Louis Johnston, professor of economics at the College of Saint Benedict and Saint John's University, and Lee Schafer, business columnist at the Star Tribune.