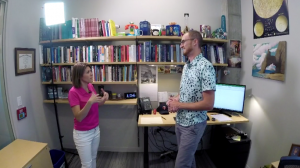 Assistant Professor of Psychology Ben Denkinger spoke with WCCO's Heather Brown about why time seems to speed up as we age.
"First, there's the theory of ratios – that one year to a four-year-old is a much larger percentage of their life compared to one year in the life of a 40-year-old", Denkinger explained. "It really boils down to us being a lot busier with a lot more routine tasks as we get older. The more you're paying attention to other stuff, not paying attention to the passage of time, time slips away from you."
Can we slow time down? According to Denkinger, you can. "Unfortunately, the way to slow time down is awful. It's by making yourself as bored as possible," he said.
Denkinger also runs the Aging Lab at Augsburg University.