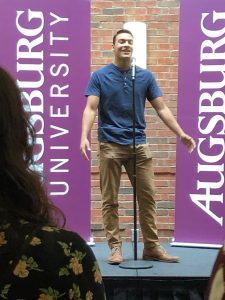 Augsburg University student Elan Quezada organized a rally on campus for the Global Climate Strike where Minneapolis Mayor Jacob Frey told students he stood behind their efforts.
"We want and we acknowledge that this is our fight – this will be our burden to carry," Quezada told WCCO's Bill Hudson.
After the rally in Oren Gateway Center's lobby on Friday, September 20, Augsburg students traveled together via light rail to rally with others at the state Capitol.
Augsburg students joined thousands worldwide who walked out of offices and schools to demand an end to the age of fossil fuels.