Augsburg University, the new home of The Forum on Workplace Inclusion, has been on a journey during the past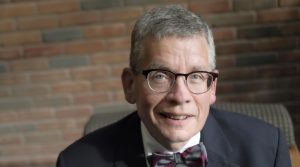 decade to become an institution that embraces diversity, works at inclusion, and seeks equity. It is a journey with lessons for other higher education institutions, as well as other organizations.
On March 11, Augsburg's President Paul Pribbenow will share the story of Augsburg's journey with its many concrete implications for policy and practice, including efforts to make higher education more accessible to diverse students, internal work to build intercultural competencies, and governance strategies that position Augsburg as a thought and practice leader in the DEI space.
The session from 9:45 a.m. to 11:15 a.m., March 11 is called Hospitality is Not Enough: An Institutional Journey From Diversity to Inclusion to Equity.
Media are invited to attend.
To RSVP, contact: Gita Sitaramiah, Director of PR and Internal Communications, 612-330-1476.
About Augsburg
Augsburg University, celebrating its 150th anniversary, offers more than 50 undergraduate majors and 11 graduate degrees to 3,400 students of diverse backgrounds at its campus in the vibrant center of the Twin Cities and nearby Rochester, Minnesota, location. Augsburg educates students to be informed citizens, thoughtful stewards, critical thinkers, and responsible leaders. An Augsburg education is defined by excellence in the liberal arts and professional studies, guided by the faith and values of the Lutheran church, and shaped by its urban and global settings. Learn more at Augsburg.edu.
About The Forum
For 32 years, The Forum has served as a convening hub for those seeking to grow professional leadership and effectiveness skills in the field of diversity, equity, and inclusion by engaging people, advancing ideas, and igniting change. The annual conference is HRCI and SHRM Continuing Education Credit (CEU) eligible. For rates, registration, or more information, visit ForumWorkplaceInclusion.org