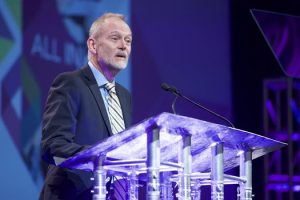 Steve Humerickhouse, executive director of The Forum on Workplace Inclusion®, spoke with the Star Tribune's Gail Rosenblum about how the Twin Cities is becoming one of the largest hubs for workplace diversity and inclusion.
Augsburg University became home to the Forum on Workplace Inclusion on July 1. The Forum is the nation's largest workplace diversity, equity, and inclusion conference designed for a national and global audience.
Humerickhouse shared some of The Forum's resources in the article: "We hold a breakfast series three times a year and offer a series of 10 webinars attended by upward of 500 diversity and inclusion experts from around the world. We also create 24 original podcasts each year and blog out articles on social media. The conference is our flagship event, bringing in global speakers from Australia to England to South Africa.
The Forum's 32nd annual conference is March 10 –12 at the Minneapolis Convention Center. On March 11, Augsburg's President Paul Pribbenow will share the story of Augsburg's journey with its many concrete implications for policy and practice.