Augsburg University is complying with Minnesota Gov. Tim Walz's Stay at Home Order, and other executive orders,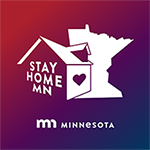 by permitting only critical employees and certain resident students who fall within four categories inside campus buildings.
Augsburg's residence halls remain open for only those students who do not have alternative living arrangements, including international students; students who have insecure housing; students whose home is not safe; and students who need to stay on campus for health reasons. All other students have been asked to move off campus. Augsburg will provide a prorated housing credit for certain students who have moved off campus and remains flexible in scheduling time, if needed, for students to return to campus to collect their belongings. 
Augsburg has taken other steps in an effort to limit exposure to and potential spread of COVID-19. Students who remain on campus retain fob access only to their residence hall and the Christensen Center for dining purposes. Otherwise, students' general fob access to other campus buildings has been turned off. Students remaining on campus have been informed that they are not allowed to bring any guests—including those currently living in other Augsburg buildings—into their residence halls. The only exception to the no guest policy is for individuals assisting with a pre-arranged move out.
Students remaining on campus who violate university policies, including those regarding social distancing and no guests, may be subject to discipline, including being asked to leave campus to protect Augsburg from community spread. 
Augsburg has operated under a modified operations plan since March 18, which was the start of the university's spring break week. Classes remain online for the remainder of the spring semester, ending Friday, May 1.
During modified operations, employees (including faculty, staff, and student workers) whose roles are deemed critical to university operations retain access to campus buildings for work purposes only. All staff, faculty and students must wear cloth face masks in any common areas while on Augsburg property, based on Minnesota Department of Health guidelines updated in April.
Visit the Outbreak Planning website for more information regarding Augsburg's operations during the pandemic.