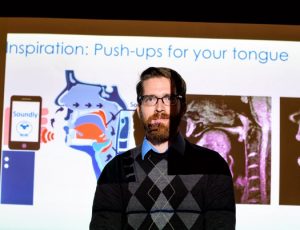 HealthPartners Institute, researchers at the University of Minnesota, and Modern Logic have teamed up to create the SafeDistance smartphone application and website, a new tool that helps users track COVID-19 outbreaks using crowd-sourced information from anonymous users. 
The free app sends notifications as users travel through high-risk areas. "As you're moving around, you'll actually see if you're going into a higher risk area or you're coming from a higher risk area," Brian Krohn '08 told Kare 11. Krohn is a project manager and entrepreneur-in-residence at Minneapolis-based Modern Logic and technical lead on the SafeDistance project.
Users of the app take a short COVID-19 symptom survey and then see a map of their neighborhood, as well as other neighborhoods. Data will not be used for-profit and users will not be asked for identifiable information. The app also offers tips about health risks and how to maintain social distancing. 
Krohn, a Rhodes Scholar, has been described as a "Minnesota "Genius". His undergraduate research at Augsburg University led him to a "Good Morning America" appearance in which he talked about a process to produce environmentally-friendly fuel, which was later commercialized in the development of a $9 million pilot plant. Among Krohn's creations are surgery tools, wizard staffs, a cycling workout app, the Soundly app, and more recently, SafeDistance. 
While the app launched recently in Minnesota, it is expected to expand across the country soon.
Read the full article on the Kare 11 website.
Click here to learn more and to download the app.
Related articles:
KSTP