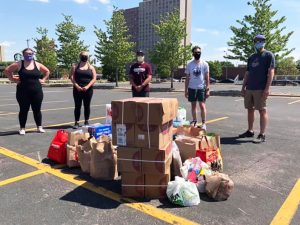 On June 1, Augsburg University organized a supply drive to aid the Cedar-Riverside neighborhood. The COVID-19 pandemic combined with the devastation that followed the murder of George Floyd near campus put a strain on our community given that many local stores were closed and there was little to no public transportation.
More than 550 cars arrived to donate to the supply drive and a few dozen trips were made to the nearby Brian Coyle Center, the recipient of all the supplies.
"This is our community, this is our neighborhood. So when our neighbors are hurting, you step forward and you do what you can to help" a volunteer told Fox 9.
Watch the full report at the Fox 9 website.