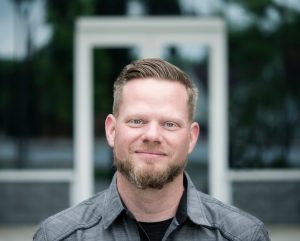 Augsburg University announced today that Jeremy Myers, associate professor of religion and executive director of the institution's Christensen Center for Vocation, has been appointed to serve as the next Bernhard M. Christensen Professor of Religion and Vocation, effective on July 1, 2022. Myers will succeed Martha Stortz, PhD, who retired and was granted emerita status in 2020.
"It is a remarkable testament to Augsburg's leadership at the intersection of faith, learning, and service that we have in our own faculty ranks a scholar so well prepared to continue the work begun by Marty and her predecessor, David Tiede," said Augsburg President Paul C. Pribbenow. "Jeremy is an innovative problem-solver, a collaborative colleague, and a creatively critical theologian."
The Christensen Chair was established in 2005 to honor the legacy of Bernhard M. Christensen, who served as president of what was then known as Augsburg College and Seminary from 1938 to 1962. The chair provides public leadership in interpreting and advancing Augsburg's educational mission, pursues scholarship and teaches in the religion department, and serves as counsel to the president and Board of Regents.
"Jeremy has thought deeply about President Christensen's legacy at this university and the lessons his leadership continues to have for Lutheran higher education in the current age," Pribbenow said.
"Dr. Myers' vision for the Christensen Chair is grounded and shaped by the five lessons of Bernhard Christensen, the Augsburg University mission statement, and the realities and challenges of the 21st century, especially the 21st century church," said the members of a faculty and staff discernment committee that met with Myers about the role. "This vision aligns with his innovative work guiding churches in 'place-based vocational discernment' and will help guide our Augsburg community in new and rich reflection on our own—individual and communal—vocational discernment. In candid conversation with Dr. Myers, we explored the expectations and opportunities of this position and his ability to meet those expectations and expand the opportunities. We think he is the right person for the job."
Myers, who earned his bachelor's degree at the University of Minnesota and his master's and PhD from Luther Seminary in St. Paul, Minnesota, is a distinguished scholar in vocation and congregational ministry. In addition to many articles and chapters, he is the author of Liberating Youth from Adolescence published by Fortress Press and a sought-after speaker at conferences and in congregations. He has secured millions of dollars in grants to support the work of the Christensen Center for Vocation at Augsburg and has served on the steering committee of the Association of Teaching Theologians and on the board of the ELCA Youth Ministry Network.
Myers said the concept of vocation is a critical lens for thinking about transformational solutions to the problems we face in today's world. "The key ingredients of vocation—the neighbor, the self, the common good, and God (or something larger than us all)—give rise to a method of discernment and discovery that is different from any other method currently being used to address society's biggest issues. These ingredients produce a creative tension that leads to innovation, accountability, mutuality, and hope, and this approach to public life cannot be reserved for those who claim to live a religious life. The tables where vocation is being discussed and discerned need to become long and wide."
Myers will offer his inaugural address as the Christensen Professor at a symposium at Augsburg in September.