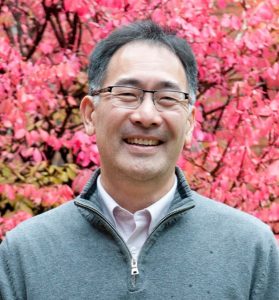 Andy Aoki, professor of political science, has been named to the M. Anita Gay Hawthorne professorship of critical race and ethnicity studies, effective June 1, 2022. He succeeds Professor William Green, the inaugural holder of the professorship, who retires at the end of the current academic year. Recently elected to chair Augsburg's Department of Critical Race and Ethnicity Studies, Aoki's work as Hawthorne Professor will focus on building a strong foundation for the new department and strong connections with aligned disciplines.
A prolific writer and speaker on Asian American identities and racial politics, Professor Aoki joined the Augsburg faculty in 1988. He holds a BA in political science from the University of Oregon and an MA and PhD in political science from the University of Wisconsin-Madison. At Augsburg, he teaches courses on American politics, political theory, and racial and ethnic politics. He has served as department chair of Augsburg's political science department for a combined total of 18 years and as a senior fellow in the Sabo Center for Democracy and Citizenship since 2014. He is currently serving as Faculty Senate President, a member of the faculty's Budget Working Group, and chair of the workgroup charged with reviewing implications of the proposed "two college" structure for faculty governance. He co-founded the Asian Pacific American Caucus, bringing together scholars and community leaders, and has twice been president of the American Political Science Association's organized section on Race, Ethnicity, and Politics.
The M. Anita Gay Hawthorne professorship of critical race and ethnicity studies was created in 2020 on the recommendation of a working group of students, faculty, and staff who advanced, simultaneously, a vision for the creation of a new academic department in critical race and ethnicity studies at Augsburg. The professorship honors senior faculty with extensive records of achievement as well as demonstrated commitments to critical race and ethnicity studies. It seeks to embody the student and community orientation embedded in this interdisciplinary field of study, and it expresses Augsburg's commitment to culturally-responsive pedagogy in the undergraduate and graduate curricula. It honors the legacy of Margaret Anita Gay Hawthorne ("Anita") who drew upon the concept of Pan-Afrikanism to create a program at Augsburg unique to any college in the country.
President Paul Pribbenow offers these comments: "It is a great privilege to appoint Professor Aoki to the Hawthorne Professorship. His appointment, following Professor Bill Green's inaugural tenure in the position, illustrates that Augsburg's commitment to critical race and ethnic studies—now ensconced in a new department—has deep and abiding roots across the entire span of our academic mission. I am delighted to witness the many ways in which our focus on research and teaching that engages the lived experience of all our students is being taken up by faculty and students across the entire university."