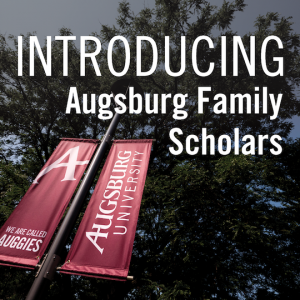 Augsburg University is launching a new program to beat the odds for students with foster care backgrounds. With funding for the program's initial year from the Sauer Family Foundation, the Augsburg Family Scholars program aims to reduce students' financial vulnerabilities, nurture their academic progress, and build community throughout their college journey.
"Students with foster care backgrounds have extraordinary strengths and capabilities. But because of the opportunity gap, less than three percent of youth who age out of foster care will earn a college degree," said Tim Pippert, the Joel Torstenson endowed professor of sociology at Augsburg, who developed the program and will serve as its faculty mentor. "To help students succeed, we need to invest in meeting their unique needs for stability and community once they get to college." 
Augsburg Family Scholars layers comprehensive support on top of Minnesota's Fostering Independence Higher Education Grant, a new state initiative that covers tuition, room and board, and fees for students who were in the Minnesota foster care system after age 13.
Augsburg's program targets the complex challenges young adults with foster care backgrounds face in higher education. Participants will have access to guaranteed year-round housing, support for food and other basic needs when school is not in session, help navigating public assistance programs, and access to a laptop. The program also seeks to strengthen a sense of community from the outset, offering help moving to campus and outfitting students' living spaces, regular cohort events, and opportunities to participate in peer mentoring and leadership activities. Academically, participants will benefit from a dedicated faculty mentor and support to explore undergraduate research programs and post-graduate options.
"College is a privilege," said Justin Tverberg, a junior exercise science major from Hastings, MN, and a linebacker on Augsburg's football team. "But my freshman year was the covid year, and it was a very tough time. I moved off campus sophomore year to save money. Then this new program came out, and I thought, I can get a restart on campus and enjoy my experience. Literally, my mouth dropped. This puts me in a position where I can go to college almost stress-free."
"The state grant is a fantastic step forward, but cost is only one barrier," said Katie Bishop, Augsburg's vice president for student experience and success. "Augsburg Family Scholars is a promise to these students that their specific gifts and challenges are seen, valued, and supported on our campus."
"The Sauer Family Foundation is excited to support the creation of the Augsburg Family Scholars Program to help students with foster care backgrounds not only make a successful transition from high school to college but also to complete their college degree," said Colleen O'Keefe, executive director of the foundation.
This summer, the Sauer Family Foundation awarded Augsburg a $53,000 grant to support the initial program cohort this fall. Both new and returning students are eligible to participate.
Learn more at augsburg.edu/augsburgfamilyscholars.