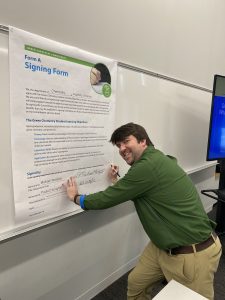 Augsburg's STEM programs took an important step towards sustainability on December 8 by signing the Green Chemistry Commitment. 
Green chemistry is the design of chemical products and processes that reduce the use or generation of hazardous substances. "It's benign by design," says Associate Professor Michael Wentzel, whose own research focuses on the development of green synthetic methods in the field of sustainable chemistry. 
In his role as department chair and undergraduate summer research coordinator, Wentzel works to help students build their science communication skills—a crucial factor in advancing systemic change for a sustainable future.
One way to communicate the magnitude of a big step forward? Print up the biggest possible certificate.
Having signed on, Augsburg joins more than 50 other institutions that have agreed to integrate green chemistry across the curriculum and sub-disciplines of chemistry. A primary goal of the commitment is that upon graduation, all chemistry majors will: 
Have a working knowledge of the twelve principles of green chemistry. 

Have an understanding of the principles of toxicology, the molecular mechanisms by which chemicals affect human health and the environment, and the resources to identify and assess molecular hazards.

Be able to to assess chemical products and processes and design greener alternatives when appropriate.

Be prepared to serve society as scientists and professionals through the articulation, evaluation, and employment of methods and chemicals that are benign for human health and the environment.
Beyond Benign is a nonprofit organization founded in 2007 to provide educators with the tools, training and support to make green chemistry an integral part of chemistry education. Through programs like the Green Chemistry Commitment, they work to help catalyze the development of green technological innovations that result in safer products and processes in support of a sustainable, healthy society.