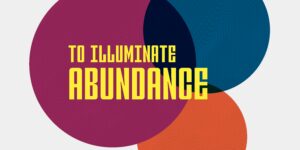 On January 21, the Augsburg Art Galleries will open a new exhibition featuring nine local, Black women and femme designers. TO ILLUMINATE ABUNDANCE, curated by Olivia House '20 and Silent Fox '18 of 13.4 Collective, explores what it means to live a life full of love, freedom, and light.
TO ILLUMINATE ABUNDANCE brings together nine Black designers at various stages in their careers. House and Fox invited contributing graphic designers to reflect on and illuminate a text, quote, or lyric that helps imagine what it could look like to move forward and towards more; to help envision what life is like when it feels full. The exhibition features work by Ashley Koudou, Kelsi Sharp, Leeya Rose Jackson, Marcia Rowe '22, Olivia Anizor, Sabrina Peitz, and Terresa Moses, as well as House and Fox.
"This show is meant to express what our world should be: a world in which Black femmes are able to live a life without pain or suffering; a life full of light," said House.
An opening reception for TO ILLUMINATE ABUNDANCE will take place on Saturday, January 21. The curators and artists of the show will gather for an artist talk on Thursday, February 2 at the Hagfors Center to contextualize their work and their view of the exhibition within a broader landscape of making, community, politics, and futurism. This event is featured as part of The Great Northern festival, happening January 25–February 5 around the Twin Cities metro area. The Great Northern celebrates Minnesota's cold, creative winters through 10 days of diverse programming that invigorate mind and body.
The exhibition runs through March 24 in Augsburg's Gage and Christensen galleries.