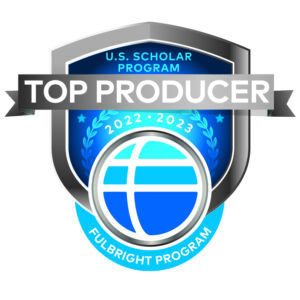 The U.S. Department of State announced today that Augsburg University has been named a Fulbright Top-Producing Institution for U.S. Scholars. This designation recognizes the U.S. colleges and universities that had the highest number of applicants selected for the 2022–23 Fulbright U.S. Scholar Program.
Each year, this elite program selects approximately 900 faculty members or administrators from across the country to lecture, conduct research, or pursue short- or long-term professional projects abroad.
In the 2022–23 academic year, Augsburg faculty members George Dierberger, associate professor of business administration, and Joseph Erickson, professor of education, were named Fulbright Scholars. Dierberger's Fulbright took him to Letterkenny, Ireland, while Erickson is spending the spring in Ljubljana, Slovenia.
The Fulbright Program has been a cornerstone of international education and cultural exchange for the United States since 1946. The purpose of the program is to inspire, innovate, and contribute to finding solutions for communities and the world.
Fulbright alumni work to make a positive impact on their communities, sectors, and the world and have included 41 heads of state or government, 62 Nobel Laureates, 89 Pulitzer Prize winners, 78 MacArthur Fellows, and countless leaders and changemakers who carry forward the Fulbright mission of enhancing mutual understanding.
For more information about the Fulbright Program, visit https://fulbrightprogram.org/