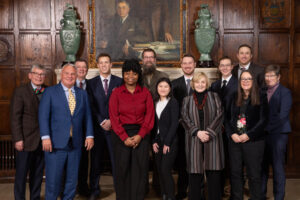 "When we went up there, it was our job to know about everything—the pros, cons, the disease, all of it," said Connor Thorsten '24. "As much as public speaking is a fear for a lot of people, we went up with confidence and did a great job." 
With a who's who of Mayo Clinic licensing managers and innovators in the audience, Thorsten and his teammates—Tom Erickson '24, Lorraine Wongbi '23, and Lily Yang '23—weren't just delivering a typical class presentation. Their subject? A challenging biomedical tech transfer project focused on an implantable cardiac med tech device.
The presentation to Mayo Clinic leaders in early March was the culmination of months of study, research, and preparation the students undertook as participants in the Innovation Scholars program. Working at the intersection of science, healthcare, and entrepreneurship, Innovation Scholars brings interdisciplinary teams of outstanding liberal arts students from 12 Minnesota private colleges and universities together to solve real-world problems in real time. 
"It's one of the best opportunities for students that I've seen as far as real-world application and being interdisciplinary," said Jacob Enger, assistant professor of business administration. Enger served as one of two faculty mentors for Augsburg's team this year, along with Tim Monko, adjunct instructor in biology. Each group was also paired with an MBA student mentor from Augsburg or the University of St. Thomas. 
Throughout the fall and winter, Augsburg's team met weekly or more to research the tech transfer project they were assigned by the Mayo Clinic. (Tech transfer refers to the process of moving from research to application and commercialization.) Bringing expertise in biochemistry, biopsychology, finance/accounting, and physics, they tackled questions like: Is it safe? Is it effective? Is it helpful? What is the potential patient population? Who are the competitors? What is the path to finishing product development and bringing it to market? 
"The experience made me more aware of the different moving parts that come into play during the roll-out of an innovation," said Wongbi. "It really put into perspective the heart and dedication of the inventors, as much of the process requires patience."
In addition to writing a 40-plus page research paper and preparing the content of their presentation, the team practiced and strengthened their presentation skills, from holding a microphone to taking turns fielding questions. 
"The experience provides such a wide range of areas for students to grow and develop, all with skills they can speak to on a résumé" said Enger. "Students both collaborate and specialize within their area of expertise, whether science or business." 
While confidentiality agreements limit how much they can share about the project, the Augsburg students came away feeling celebratory. Thorsten, a member of Augsburg's 2023 national champion wrestling squad, credits teamwork for their success in Rochester. 
"It was one of the best out-of-school, real world experiences I've had," he said. "It was a lot of very hard work—crunch time got very busy—but we divided and conquered, and when one of us was struggling, we focused on helping them and vice versa."
Students can participate in Innovation Scholars for credit or to fulfill their Augsburg Experience requirement. The application for the next cohort will open in the fall. To find out more, reach out to URGO or visit the Innovation Scholars website.