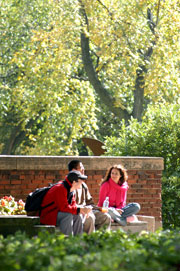 This year's undergraduate day incoming first-year class is one of the largest yet, with a total count of 418.
They hail from 18 states and five countries: Russia, Sweden, Colombia, Indonesia, and Mexico. The most common last name is "Olson" or "Olsen," while the most common first name is a variation of "Alex." Other names you'll encounter on a frequent basis will be Jessica, John, Sarah, Matthew, and Caitlyn.
Our incoming first-year class represents a variety of backgrounds and interests, from robotics (one student interested) to archery (eight) to ice hockey (32), and from Nordic Studies (two) to film (27) to pre-medicine (34).
Augsburg is proud to be one of the top two most popular colleges for students enrolled in Admission Possible, second only to the University of Minnesota. This means there will be a significant number of first-generation, low income, and/or ethnic minorities represented in the first-year class.
More substantial data will be available after the College's tenth day report. For now, let's look forward to welcoming the newest Auggies to the flock.