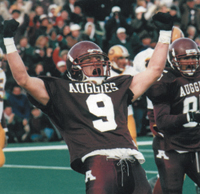 Augsburg will be celebrating the 10th anniversary of the football team's
1997 Minnesota Intercollegiate Athletic Conference championship season
this year. An anniversary celebration will be held during the Auggies'
season-opening game against Northwestern-Roseville on Sept. 8 at 7 p.m. at Edor Nelson Field.
The Auggies went 10-2 in 1997, reaching the second round of the NCAA Division III national playoffs. It marked just the second conference championship in football for the Auggies; the first was in 1928.
Also at the Sept. 8 Northwestern-Roseville game, Augsburg will formally
retire the No. 30 jersey of former wide receiver Scott Hvistendahl.
Hvistendahl currently serves as an assistant coach at Northwestern.
Hvistendahl was one of the top receivers in NCAA Division III history
during his career at Augsburg (1995-98), earning multiple All-American
honors and winning the Gagliardi Trophy as Division III's outstanding
player in 1998. He caught 285 passes for 4,696 career receiving yards,
breaking the NCAA all-divisions record for receiving yardage, then held
by NFL legend Jerry Rice, in the final game of his career in 1998.
Hvistendahl currently stands third in Division III history in career
receiving yardage, sixth in career receptions and 20th in career receiving
touchdowns (40). He still appears in 16 different record categories
in the Division III record book. Among NCAA players in all divisions,
Hvistendahl currently stands sixth in career receiving yardage and 21st
in career receptions.