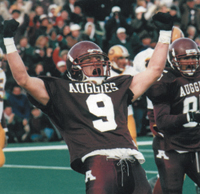 Augsburg will be celebrating the 10th anniversary of the football team's
1997 Minnesota Intercollegiate Athletic Conference championship season
this year. An anniversary celebration will be held during the Auggies'
season-opening game against Northwestern-Roseville on Sept. 8 at 7 p.m. at Edor Nelson Field.
The Auggies went 10-2 in 1997, reaching the second round of the NCAA Division III national playoffs. It marked just the second conference championship in football for the Auggies; the first was in 1928.
Also at the Sept. 8 Northwestern-Roseville game, Augsburg will formally
retire the No. 30 jersey of former wide receiver Scott Hvistendahl.
Hvistendahl currently serves as an assistant coach at Northwestern. Continue reading "Augsburg to celebrate 10th anniversary of 1997 football championship season" →