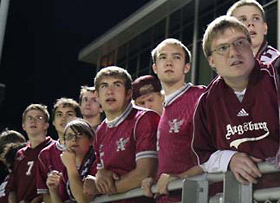 If you have gone to a soccer game in the past few years, you've seen the rowdy mob of students with blaze-orange T-shirts flaunting their school spirit
at every game.
Believe it or not, this wild bunch is actually an esteemed (yet unofficial) student organization called "Crowd Control." Besides having loads of fun, Crowd Control is a prime example of unfettered, grass-roots school spirit at its best.
Crowd Control began two years ago when Grant Hemmingsen, Charlie Scott, Mitch Seesz and Ryan Stockhaus got a group of students together to attend all the men's soccer team's home games. The men's head soccer coach, Greg Holker, has been encouraging the unofficial student group.
After Crowd Control made its first appearance at a game, Holker knew something exciting was afoot. "When the game was over, I had our guys jog over and thank them for coming," says Holker, "and then I went over and met some of the guys — from there, I knew something had to be done to create something even more special. The next day I ordered 30 bright orange shirts with our men's soccer logo on the chest and CROWD CONTROL on the back…and it sort of took off from there." Holker has also shown his support by providing Crowd Control with real Augsburg soccer T-shirts and flags. This year, the members have changed their T-shirt color from their customary blaze orange to Augsburg's own Auggie colors of silver and maroon.
Crowd Control senior member Matt Dunn says, "Crowd Control is a great way to cheer on my friends on the soccer team, and it is also a way to show school spirit in a manner that fits with the MIAC sportsmanship code: 'be loud, be proud, be positive.' Crowd Control is also a great way to get fans to games to support a sport that is generally under-appreciated in college athletics."
Recently, Crowd Control has expanded even further by making road trips to the men's soccer team's away games, and the organization is hoping for even more involvement. Holker says, "Of course, we hope that more students will find an interest in supporting our program. We hope to put a good product on the field — one that wins championships — and the more people to share that with us, the better we will all feel about our accomplishments."