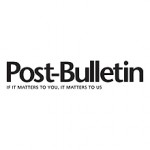 Olivia Muyres '15 was named the Minnesota Intercollegiate Athletic Conference Women's Soccer Player of the Year.
Muyres, who helped Augsburg win its first MIAC championship, was featured in the Rochester Post-Bulletin for her accomplishments in the Nov. 22 NCAA Division III Tournament. Muyres scored the winning goal in overtime during the first game.
To read more about her achievements, visit the Post-Bulletin news site.